Wat is een Nor'easter (filmpje CNN)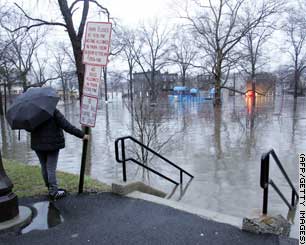 As an oncoming nor'easter dumped heavy rains along the mid-Atlantic coast, Mayor Michael Bloomberg urged New Yorkers to use mass transit Monday and take other precautions. Commuter train service between upper Manhattan and Connecticut was interrupted Sunday night because of flooding.
Storyhighlights
• Storm system blamed for one death
• Flooding in the Bronx shuts down commuter rail service
• Boston, coastal Massachusetts to feel storm's brunt
• New York mayor urges the use mass transit Monday
NEW YORK (CNN) -- As an oncoming nor'easter dumped heavy rains along the mid-Atlantic coast, Mayor Michael Bloomberg urged New Yorkers to use mass transit Monday and take other precautions.
The storm system was blamed for one death, which occurred in Sumter County, South Carolina, when a suspected tornado touched down Sunday morning. State emergency management spokesman Joe Farmer said other counties reported downed trees and some damage to buildings, but there were no other reports of injuries, he said.
In New York, the storm was expected to cause coastal flooding as it crossed Long Island on Sunday night, with tides 3-5 feet above normal, but Bloomberg said schools will be open Monday.
(Watch the tide rise on a New York beach Video)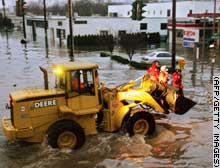 City workers ride on a front-end loader through floodwaters Sunday in Mamaroneck, New York.
A flood warning was in effect until early Monday, though no mandatory evacuations had been ordered. Commuter train service between upper Manhattan and Connecticut was interrupted Sunday night because of flooding in parts of the Bronx, transit officials reported.
"If you can avoid driving tonight, please stay off the roads," Bloomberg told reporters from the city's emergency operations center. "Tomorrow morning, I cannot encourage you enough to use mass transit."
Although nine emergency shelters had been opened in the city's five boroughs, they were housing just two people as of dusk, he said.
"If you want to sum up what has happened with this storm, the rains have been pretty much what had been forecast, and fortunately the winds have been lighter than what was forecast," Bloomberg said.
In Elmhurst, Queens, 1,300 homes were without power.
The nor'easter was blamed for 350 flight cancellations at New York City's three area airports on Sunday, with delays exceeding eight hours at John F. Kennedy International Airport, the Federal Aviation Administration said.
At LaGuardia Airport, arrival delays were averaging about three hours, the FAA's Web site said.
Hundreds of people were stranded at LaGuardia when their flights were canceled. Some who couldn't find a seat spread out their bags on the floor and slept on them.
"It's the weather, what can we do?" asked Myre Maureen Harte, whose Florida flight had been delayed for 15 hours. "We should be compensated in some way for this."
Delays were averaging two hours at Newark-Liberty International, while the average arrival delay at Boston's Logan International was slightly more than an hour.
At Philadelphia International Airport, delays were two hours.
"It is imperative that folks check with their carriers," said Pasquale DiFulco, a spokesman for the Port Authority of New York and New Jersey.
In western North Carolina, the central pressure of the intense low pressure system was estimated at 986 millibars (mb), and was expected to drop to 977 Sunday evening, well below the record low of 991.57 mb recorded during a storm that struck New England in December 1992.
Flood warnings were issued for much of coastal Pennsylvania, Delaware and New York, including the cities of Philadelphia, Pennsylvania, and the greater New York metropolitan area.
Some roads had already flooded in the New York metro area by Sunday afternoon. Flooding was reported in Lodi, New Jersey, where the Saddle River overflowed near Route 46, causing several businesses to be evacuated, including a funeral home, police said.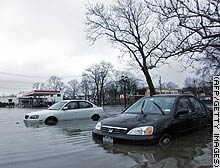 Flooding was also reported in Macungie, Pennsylvania; Wilmington, Delaware; Bryn Mawr, Pennsylvania.; Elkton, Maryland; Hopatcong, New Jersey; Swarthmore, Pennsylvania; Camden, New Jersey; Lindenwold, New Jersey; Brass Castle, New Jersey; and Edgewater Park, New Jersey, the National Weather Service said.
(Watch flooding on the East Coast and West Virginia Video)
In coastal areas of New England, 4 inches to 6 inches of rain were possible, the Weather Service said.
By Monday, Boston and coastal Massachusetts will experience the high tides and coastal flooding, the weather service said. Winds of 25-35 mph are expected to decrease as the day progresses.
In coastal areas of New England, four to six inches of rain were possible, the weather service said. And the rain could turn to snow as it moved into parts of the region, such as northern Vermont.
©CNN
Every cloud has a silver lining
Northeast Slammed By Rare April Storm
Hundreds Of Flights Canceled As High Winds, Heavy Rains, Snow Slam Mid-Atlantic States, New England
(CBS/AP) A nor'easter battered the East with strong wind and pouring rain Sunday, grounding hundreds of airline flights, downing power lines and threatening severe coastal flooding overnight.
Deze foto is niet meer beschikbaar
Pedestrians push against the wind and rain as they cross the road April 15, 2007 at Astor Place in New York City. The nor'easter is expected to deliver some of the worst flooding to coastal areas in 14 years. (Getty Images/Chris McGrath)
The storm flooded people out of their homes in the middle of the night in West Virginia and trapped others. Some New Jersey shore residents evacuated, and officials in Connecticut urged some residents along the Long Island Sound to do the same. Inland areas from upstate New York to Maine faced a threat of heavy snow.
Deze foto is niet meer beschikbaar
A car abandoned by the driver sits in water that overflowed the banks of the Cooper River along South Park Drive, Sunday, April 15, 2007, in Collingswood, N.J. In the background is the new boathouse. (AP)
One person was killed in South Carolina as dozens of mobile homes were destroyed or damaged by wind. The storm system already had been blamed for five deaths on Friday in Kansas and Texas.
Storm warnings and watches were posted all along the East Coast, with coastal flood watches from Maryland to Maine through at least Monday morning.
More than 5.5 inches of rain fell in the New York region Sunday, shattering the record for the date of 1.8 inches set in 1906, according to the National Weather Service. Weather service meteorologist Gary Conte said Sunday night's high tide was likely to bring coastal flooding on Long Island and in parts of New York City.
Deze foto is niet meer beschikbaar
Amanda Rymer, left, and her husband Nelson Decker survey the damage to their carport and garage area, rear, after a tree was knocked down onto it by a severe storm that swept through the area in Haltom City, Texas, Friday, April 13, 2007. (AP Photo/Tony Gutierrez)
Connecticut's emergency management commissioner, James Thomas, was expecting most of the problems to come Sunday night with the high tide.
"We are prepared to deliver sandbags, assist with an evacuation, or whatever we need to do," Thomas said. "We're kind of all sitting back, getting prepared and hoping it doesn't get as bad as it has been in different parts of the country."
In New York, flooding stalled traffic along parkways and forced residents in at least one Queens neighborhood to paddle through streets in boats. In the coastal Seagate section of Brooklyn, which suffered major flooding in a December 1992 nor'easter, residents placed sandbags in the streets.
"Everybody remembers that (1992 storm)," resident Jose Serrano said. "Everybody's home got ruined. Some houses got underwater. It was up to your stomach."
Deze foto is niet meer beschikbaar
City of Decatur public works employee Wayne Cavage uses a pitch fork to clear a street drain after a heavy rain Saturday, April 14, 2007, in Decatur, Ala. (AP Photo/The Decatur Daily)
More than 400 flights were cancelled in the New York region — over 80 in Philadelphia and 70 in Boston, reports CBS News correspondent Randall Pinkston.
Fire Island Ferries suspended service to the island, off the south shore of Long Island, and the Metro-North Railroad suspended service on its Harlem and New Haven lines for several hours because of flooding in the Mott Haven section of the Bronx.
The Coast Guard had warned mariners to head for port because wind up to 55 mph was expected to generate seas up to 20 feet high, Petty Officer Etta Smith said in Boston.
A tornado touched down in the central part of South Carolina, killing one person, seriously injuring four others and cutting a 300-yard swath of destruction in Sumter County, officials said. A second tornado touched down near Lynchburg.
In New Jersey, 16 roadways throughout the state were either partially or fully closed and traffic lights were malfunctioning in some areas, Kris Kolluri, state Transportation Commissioner, said late Sunday afternoon.
In Sea Bright, New Jersey, the storm, which picked up power as it headed over the ocean, pounded the area with heavy rains and wind gusts of more than 50 mph, reports CBS News correspondent Bianca Solorzano.
"This is going to be bad," Shaun Rheinheimer said as he moved furniture to higher spots at his house on New Jersey's Cedar Bonnet Island.
The storm caused flash flooding in the mountains of southern West Virginia, where emergency services personnel rescued nearly two dozen people from homes and cars in Logan and Boone counties early Sunday. Two people were unaccounted for and others were trapped in their homes.
"Our houses sit in the middle of the hill, and it's all around us. I'm surrounded, it's like a lake completely around us," said Samantha Walker, 29, who was visiting her grandmother in Matheny. "We can't get out even if we wanted to get out."
The storm forced the postponement of six major league baseball games Sunday — the most in a single day in a decade — and gave runners in Monday's Boston Marathon something to worry about besides Heartbreak Hill. The race-day forecast called for 3 to 5 inches of rain, start temperatures in the 30s and wind gusts of up to 25 mph.
Deze foto is niet meer beschikbaar
Tornadoes in the Dallas/Ft. Worth area caused extensive damage Friday, with two deaths reported. (CBS)
Heavy rain and thunderstorms extended from Florida up the coast to New England on Sunday. Wind gusted to 71 mph at Charleston, S.C., the weather service said.
Major flooding was forecast in parts of eastern and central Pennsylvania, where some rivers already were above flood state Sunday night.
Thousands of electricity customers lost power in states including New York, Connecticut, New Jersey and North Carolina.
Rain dumped 3 inches on eastern Kentucky, where a 50-foot section of highway collapsed near Pikeville, said State Police Sgt. Jamey Kidd. No vehicles were caught by the collapse, he said.
In central Florida, a tornado damaged mobile homes in Dundee but no injuries were reported, police said.
© MMVII, CBS Interactive Inc. All Rights Reserved.
Every cloud has a silver lining
Townspeople gather near a flooded street Monday in Bound Brook, New Jersey
Storyhighlights
• New York airports operating normally after cancellations
• Nor'easter leaves huge swath of devastation on East Coast
• At least 15 deaths blamed on the storm nationwide
• Storm dumps 9 inches of rain on parts of New Jersey
TRENTON, New Jersey (AP) -- Floodwaters swirled through low-lying communities, but commuters had an easier time Tuesday as remnants of a deadly spring storm lingered in the Northeast for a third day.
The nor'easter left a huge swath of devastation, from the beaches of South Carolina to the mountains of Maine. It knocked out power to hundreds of thousands of people and was blamed for at least 15 deaths nationwide.
Showers lingered Tuesday, and forecasters said the system wouldn't move out entirely for another day. Flood warnings remained posted in parts of New Jersey and eastern New York.
More than 170,000 utility customers were without power in North Carolina alone. Utilities in New Hampshire said repairs were going slowly because of continued flooding, washed-out roads and the storm's broad reach, which meant other utilities couldn't send spare crews to help.
The Port Authority of New York and New Jersey said the New York area's airports were operating normally Tuesday, a day after about 600 flights were canceled.
The storm dumped up to 9 inches of rain on parts of New Jersey on Monday, and more than 8 inches fell on New York City's Central Park. The park's Sunday total, 7 ½ inches, quadrupled the 101-year-old record for April 15.
New Jersey was placed under a state of emergency and more than 1,400 residents were evacuated -- many by boat.
Suburbs north of New York such as Mamaroneck are among the hardest hit.
Acting Gov. Richard J. Codey said he expects the state to qualify for federal assistance to recover from the storm.
"We're going to well exceed it [the federal aid threshold], without question," Codey said.
The storm was especially harsh in Bound Brook, where five homes burned down after fire crews could not reach the buildings because of floodwaters.
A shed washes to the edge of a pond Monday in East Brunswick, New Jersey.
The Raritan River was more than 10 feet above flood stage in Bound Brook late Monday and was not expected to return to below flood stage before Tuesday afternoon.
The river overran Route 18 in New Brunswick, forcing Rutgers University to cancel Tuesday classes at its New Brunswick and Piscataway campuses.
Dale Johnson said he and his girlfriend fled their second-story apartment through swirling, waist-deep water. They sought shelter at the Presbyterian Church of Bound Brook, where more than 100 cots were set up.
"I want to move out. I can't take it after this one," said Johnson, 48, noting that it was his third evacuation. The community also was hard hit by Hurricane Floyd in 1999.
New Jersey Transit, particularly affected during Monday's commute, had trains running close to schedule Tuesday, but trains were skipping certain stations because of flooding. A section of the New Jersey Turnpike near Newark Liberty Airport remained closed.
A U.S. Postal Service truck moves through flooded Freeport, New York, on Monday
In New York's Orange County, where hundreds of residents had been forced from their homes, some roads remained closed Tuesday morning.
In New Hampshire, more than 5,000 people were evacuated from 13 communities and more than 400 roads were closed because of flooding, Gov. John Lynch said. A mudslide blocked the state's main east-west route.
Winds blew loose the boards protecting oceanfront windows at Hampton Beach, shattering windows and flinging merchandise into the street. Waves crashed over the sea wall at high tide. Residents reported up to 5 feet of water gushing into their front doors.
"We went to look, but the wind was so strong that you couldn't walk," said Linda Pepin of Bristol, Connecticut, who owns a second-floor condominium less than 50 feet from the shore.
Snow fell in inland areas, including 17 inches in Vermont. Wind gusts to more than 80 mph toppled trees on highways in Maine, and snow drifts stranded tractor-trailers on highways in Pennsylvania. Washouts, flooding, mudslides and fallen trees blocked roads from Kentucky to New England.
Amtrak's Downeaster suspended service in Maine because tracks were washed out in Berwick. Flooding delayed or canceled Amtrak service between Boston, Massachusetts, and Washington.
New York had activated 3,200 National Guard members to help with evacuations. New Hampshire and New Jersey also sent Guardsmen to hard-hit towns, while the Connecticut National Guard supplied amphibious vehicles to the hard-hit southwestern part of the state.
Suburbs north of New York City were among the hardest hit. Mamaroneck resident Nicholas Staropoli said a truck near his home "actually floated up on the riverbank."
In Maine, a woman and her 4-year-old granddaughter died when they were swept into a river by the fast-moving floodwaters as they tried to cross a washed-out section of road in Lebanon, near the New Hampshire line, the Maine Warden Service reported. Rescuers pulled two people from the Little River, but they were pronounced dead at a hospital.
A man died in a car stalled in deep water in an underpass in New Jersey, while another drowned in a flooded street. Another person was killed by a tornado in South Carolina, and three died in car accidents -- one in upstate New York, one in Connecticut and one in North Carolina. The same storm was blamed for five deaths earlier in Texas and Kansas.
Runners in the Boston Marathon on Monday had to compete amid moderate rain and wind that made the final homestretch to Copley Square a particular challenge.
The storm was expected to turn into the worst of its kind since the December 1992 nor'easter that caused millions of dollars worth of damage to buildings, boardwalks and beaches.
Copyright 2007 The Associated Press / CNN.
Every cloud has a silver lining
Deze foto is niet meer beschikbaar
Used cars are swamped in floodwaters in Wood-Ridge, New Jersey, April 16, 2007. A large storm brought heavy rain to the East Coast early Monday, flooding rivers, stranding airline passengers and prompting evacuations along parts of the U.S. East Coast. (UNITED STATES)
REUTERS/Jeff Zelevansky
BOSTON (Reuters) - Record rainfall soaked New York while gale-force winds slowed Boston Marathon runners, 17 inches of snow blanketed Vermont and thousands lost power as a fierce storm whipped the U.S. Northeast on Monday.
"This is without question the wettest storm we've ever seen in April," said Tim Morrin, meteorologist at the National Weather Service's bureau for New York City.
Rains washed out more than 75 roads in New Hampshire, where 200 National Guard troops helped evacuate four towns and reinforce cresting rivers with sandbags.
"The damage I have seen today is some of the worst our state has experienced in the last 20 years," Connecticut Gov. Jodi Rell after surveying the hardest-hit areas in his state.
At least three people died including a man who drowned in his stalled car in New Jersey, according to local news reports. Tens of thousands lost electricity after high winds uprooted trees and downed power lines.
In Maine alone, 125,300 homes and businesses were without power by late afternoon in an area spanning 11,000 square miles
Runners in the Boston Marathon, the world's oldest annually contested marathon, began the race wearing gloves and facing sideways rain with wind gusts of up to 50 mph (80 kph) before conditions improved and the rain eased.
"I've not run in conditions this bad," Mike Stirling said as he prepared himself for the race, which was the slowest since 1977 because of the strong headwinds.
'SOAK-ATHON'
Local media called it the "soak-athon" or "monsoon Monday" as race fans huddled under umbrellas or garbage bags.
"The weather was not so good, so the race was tough," Robert Cheruiyot of Kenya said after winning his third Boston Marathon.
New York City saw its biggest daily rainfall for April at 7.57 inches . That figure was just shy of the daily record for any month of 8.2 inches set on September 23, 1882, according to the National Weather Service.
Parts of northern New York, Vermont and New Hampshire received up to 17 inches of snow, while people in southern areas sloshed through flooded homes.
"I have never seen anything like this," Ted Nichols, 39, a New Hampshire car salesman. "I got about 6 inches of water in my basement."
Maine, New Hampshire and Connecticut declared states of emergency, making them eligible for federal assistance.
The National Weather Service called for "unsettled, chilly weather" through at least Thursday for most of the region -- unusual for a time when trees are flowering and stores are stocking summer beach gear.
[img]http://www.reuters.com/resources/r/?m=02&d=20070417&t=2&i=610991&w=450[/img]
A pedestrian walks through the flooded streets of Hoboken, New Jersey, April 16, 2007. REUTERS/Gary Hershorn
[img]http://www.reuters.com/resources/r/?m=02&d=20070417&t=2&i=610990&w=450[/img]
A woman climbs into her car in the flooded streets of Hoboken, New Jersey April 16, 2007. REUTERS/Gary Hershorn
[img]http://www.reuters.com/resources/r/?m=02&d=20070417&t=2&i=610994&w=450[/img]
Buildings are seen partially submerged by flood water from the Raritan River after it forced the evacuation of Bound Brook, New Jersey, April 16, 2007. REUTERS/Chip East
[img]http://www.reuters.com/resources/r/?m=02&d=20070417&t=2&i=610995&w=450[/img]
Pedestrians walk through the flooded streets of Hoboken, New Jersey, April 16, 2007. REUTERS/Gary Hershorn
[img]http://www.reuters.com/resources/r/?m=02&d=20070417&t=2&i=610996&w=450[/img]
Water from the Saddle River floods downtown Lodi, New Jersey, April 16, 2007. REUTERS/Jeff Zelevansky
[img]http://www.reuters.com/resources/r/?m=02&d=20070417&t=2&i=610997&w=450[/img]
A NJ Transit commuter train travels over a flooded underpass in Garfield, New Jersey, April 16, 2006. REUTERS/Jeff Zelevansky
[img width=270 height=320]http://www.reuters.com/resources/r/?m=02&d=20070417&t=2&i=610998&w=[/img]
A goose paddles in the water of the Saddle River that flooded downtown Lodi, New Jersey, April 16, 2007. REUTERS/Jeff Zelevansky
[img]http://www.reuters.com/resources/r/?m=02&d=20070417&t=2&i=611001&w=450[/img]
A motorist drives through floodwaters in Lodi, New Jersey, April 16, 2007. REUTERS/Jeff Zelevansky
Every cloud has a silver lining