2014 Atlantic Hurricane Season to Close Below Normal Despite Two Major Hurricanes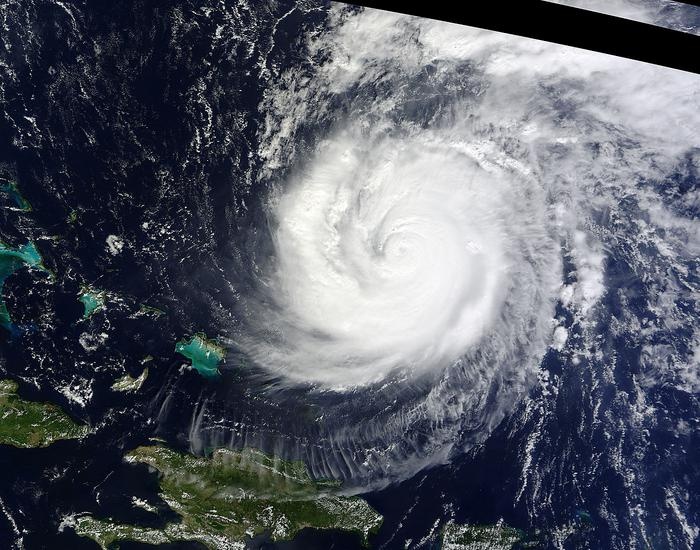 Hurricane Gonzalo churns over the Atlantic on Oct. 15, 2014. (Satellite Image/NASA Goddard MODIS)
For the second year in a row, the Atlantic hurricane season has been below average.
There have been 10 tropical cyclones in the Atlantic Basin in 2014
, eight of which have reached tropical storm intensity, AccuWeather.com Hurricane Expert Dan Kottlowski said. Six of the storms became hurricanes with two of those reaching major hurricane status. In a normal year based on the past 30-year averages, we see 12 tropical storms in the Atlantic, six of which are hurricanes and three are major, Kottlowski said.
One of the main limiting factors for the year was been extensive dry air during the early and mid-season, Kottlowski said. The persistent dry air kept most of the basin more stable than normal, leading to less thunderstorms," he said. There were also] cooler-than-normal ocean-water temperatures in the main developmental region of the basin and large areas of vertical wind shear across not only the main developmental region but also over other key areas such as the Gulf of Mexico, Caribbean and off the East Coast of the U.S.," Kottlowski said. It was also the second year in a row in which a large and stronger-than-normal surface high remained dominate over the basin much of the early and mid-season, which did two things, Kottlowski said. One, it brought drier-than-normal air down over the southern part of the basin and two, it created stronger-than-normal lower-level winds over the main developmental region causing the water to upwell," he said. "This upwelling is what caused sea surface temperatures to run slightly lower than normal in this very critical region of the basin. However, it takes only one hurricane during a season to make landfall to cause problems for an area.
Hurricane Arthur was just that hurricane for residents along the North Carolina coast and in parts of Canada. The storm, which formed as a tropical depression on June 30, 2014, made landfall over the Shackleford Banks, between Cape Lookout and Beaufort, North Carolina, as a Category 2 hurricane. Sustained winds at the time of landfall were 77 mph with winds gusting to 101 mph. Arthur also went into the record books as the earliest hurricane to strike North Carolina in a season since records began in 1851, the National Hurricane Center said. The previous record was July 11, 1901. The hurricane did minimal damage to the Tar Heel State but caused major damage farther up the Eastern Seaboard. Nova Scotia and New Brunswick were hard-hit by Arthur, which was post-tropical when it impacted the Canadian provinces on July 5. It was the strongest storm to affect the region since Hurricane Juan in 2003. It took up to three weeks before some of the more than 400,000 customers who lost power had their service restored, according to a utility report on the storm response.
Bermuda had to deal with back-to-back storms in mid-October, including a strong hurricane.
Tropical Storm Fay passed near the island on Oct. 11 and 12, bringing heavy rains and damaging winds as strong as 82 mph. Seven days later on Oct. 18, Hurricane Gonzalo made a direct hit over Bermuda as a Category 2 hurricane; one gust was clocked at 144 mph at a high-elevation observation site on St. David's Island. Gonzalo, for a time, was a Category 4 storm with maximum sustained winds of 130 mph (209 kph).After passing over Bermuda, it then went on to brush Newfoundland, Canada, bringing heavy rain and high seas up to 68 feet high. Its remnants traveled across the Atlantic and brought strong winds and heavy rain to the United Kingdom and other parts of Europe.On the heels of two below-normal seasons, 2015 may bring more of the same, Kottlowski said. This is possible if we see a lingering El Niño or the redevelopment of an El Niño. This would lead to another season dominated by strong vertical wind shear," he said.The last time three consecutive below-normal Atlantic hurricane seasons occurred was when the Atlantic Multidecadal Oscillation was negative and created cooler-than-normal water temperatures during the 1960s through the early 1990s, Kottlowski said.
http://www.accuweather.com/en/weather-news/2014-atlantic-hurricane-season-below-normal/37129104
Bron: Accuweather
| Gewijzigd: 13 november 2014, 19:38 uur, door Tatanka
there can be only one
De forecasts waren dus goed te noemen begin van het seizoen.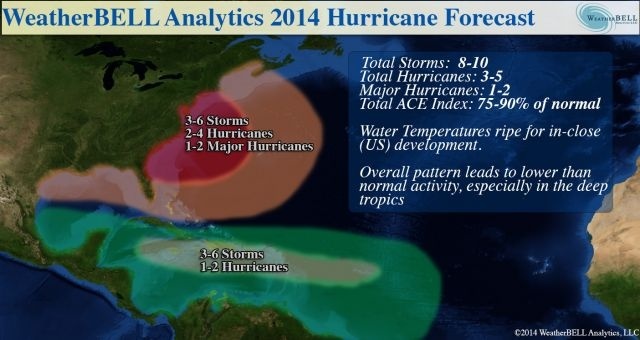 Voor meer hurricane forecasts eerder dit jaar>>
http://www.onweer-online.nl/forum/topic/40277/orkaanseizoen-2014-usa-atlantic-en-epac/
| Gewijzigd: 13 november 2014, 19:55 uur, door Tatanka
there can be only one