18P is nu cat 2 maar de kracht zal naar alle waarschijnlijkheid nog oplopen tot 3 of 4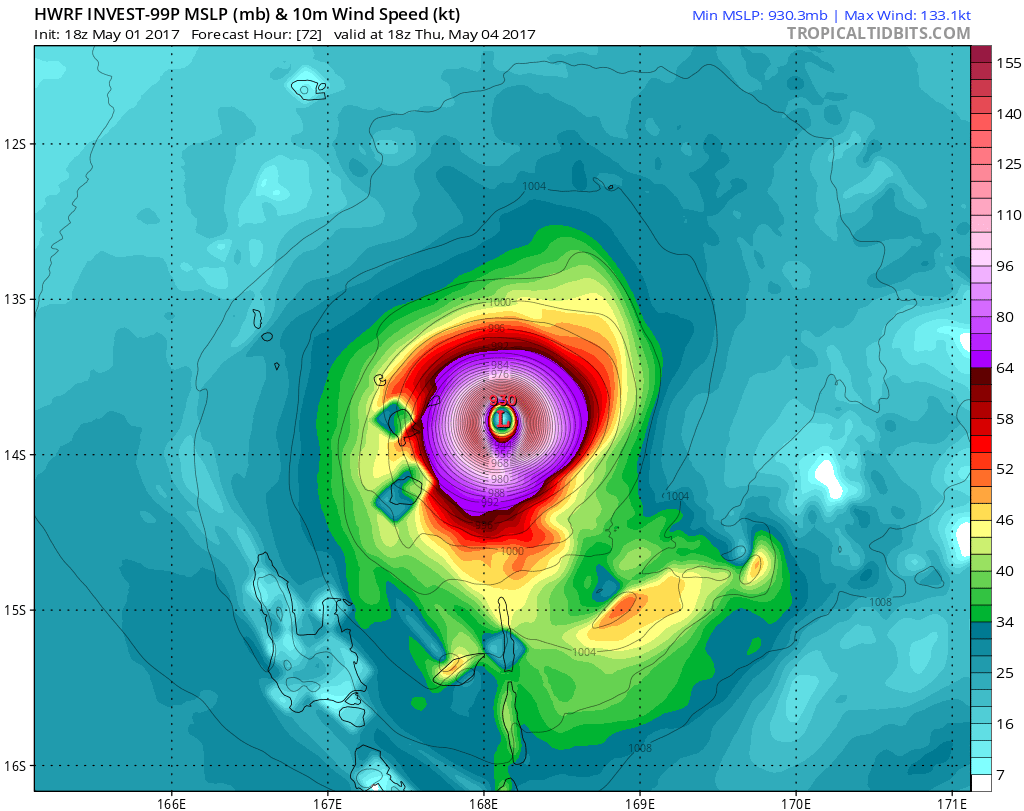 Route forecast
Date/Time Category Wind Gust Position
3rd May 2017 06:00 PM Cyclone 2 111 km/h 139 km/h 13° 6.000,171° 54.000
4th May 2017 06:00 AM Cyclone 2 130 km/h 157 km/h 13° 6.000,170° 30.000
4th May 2017 06:00 PM Cyclone 3 157 km/h 194 km/h 13° 12.000,169° 30.000
5th May 2017 06:00 PM Cyclone 4 194 km/h 241 km/h 14° 0.000,167° 54.000
6th May 2017 06:00 PM Cyclone 4 204 km/h 250 km/h 15° 6.000,167° 54.000
7th May 2017 06:00 PM Cyclone 4 204 km/h 250 km/h 17° 0.000,168° 48.000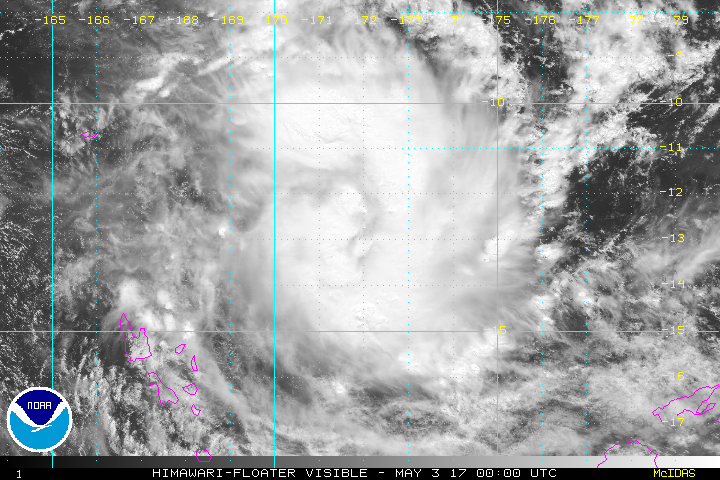 ©The JTWC (Joint Typhoon Warning Center)
Green alert for storm surge impact in Vanuatu
The JRC has developed an experimental global storm surge model, which is run after each advisory issued by the regional tropical cyclone centres. The calculations are published about 20 minutes after a new advisory is detected by GDACS. The calculations identify the populated places affected by storm surge up to three days in advance, using the forecasted track. When forecasts change, the associated storm surge changes too and alert levels may go up or down.
This report is for advisory number 1 of tropical cyclone EIGHTEEN-17 issued at 2 May 2017 18:00:00 (GDACS Event ID 1000354).
Summary
Current impact estimate:
Population affected by cyclone-strength winds (>120km/h): 30 thousand
Saffir-Simpson Category: Category 3
Maximum sustained wind speed: 204 km/h
The maximum Storm surge height is 0.3m in Lowitava, Vanuatu. This height is estimated for 06 May 2017 18:00:00.
Evolution
Previous calculations: see calculation for advisory number 1
Storm surge
View animation and affected locations in an interactive map:
Bronnen:
https://higginsstormchasing.com
http://www.gdacs.org/Cyclones/stormsurge.aspx?eventid=1000354&episodeid=1&eventtype=TC
http://webcritech.jrc.ec.europa.eu/ModellingCyclone/cyclonesurgeVM/1000354_JTWC/1/final/P1_MAXHEIGHT_END.jpg
http://webcritech.jrc.ec.europa.eu/ModellingCyclone/cyclonesurgeVM/1000354_JTWC/1/final/outres1.gif
http://hisz.rsoe.hu/alertmap/database/index.php?pageid=event_summary&edis_id=PW-20170503-58069-FJI
| Gewijzigd: 3 mei, 10:06 uur, door Joyce.s