Dust storm envelops swathe of China, dragging air quality down
People visit Tiananmen Square as a sandstorm hits Beijing, China May 4, 2017. REUTERS/Jason Lee
A dust storm enveloped a swathe of northern China on Thursday dragging down air quality and visibility and prompting warnings for children and old people to stay indoors.
Spring is China's dust-storm season, when winds whip across the Gobi Desert picking up fine sand and dust particles and dumping them along a belt of heavily populated land further south.
The official People's Daily said the worst of the storm would be concentrated on a remote area along the Mongolian border, but that Beijing and locations as far away as the remote northeast of China would be affected for at least 24 hours.
Official data from the Beijing government showed average readings of small breathable particles known as PM 2.5, a major component of China's air quality index, had risen to 630 micrograms per cubic meter in parts of the city by Thursday morning, though it dropped slightly later in the day.
The World Health Organization recommends concentrations of just 10 micrograms.
The city government said the storm would affect the capital until Friday afternoon when air quality would improve as a high pressure system moved in.
State television said old people and children should stay inside to avoid the worst effects.
The dust storm underlines the environmental problems China faces, added to concern about choking smog from coal powered power plants and factories that also periodically covers much of north China.
The government has spent billions of dollars on projects to rein in the spread of deserts, planting trees and trying to protect what plant cover remains in marginal areas.
Graphic: Dust storm in northern China - tmsnrt.rs/2pAudtt
(Reporting by Ben Blanchard; Editing by Richard Pullin, Robert Birsel)
Bron:
http://www.reuters.com/article/us-china-environment-idUSKBN180044
Blauwe maan over Beijing
"Once in a blue moon" is supposed to mean "seldom" or "absurd." Yesterday in Beijing it meant that a dust storm was in progress. On May the 4th, massive clouds of desert dust from Mongolia swept through the city, choking residents and changing the appearance of the sky. A Spaceweather.com reader in the metropolis watched the waxing gibbous moon turn blue: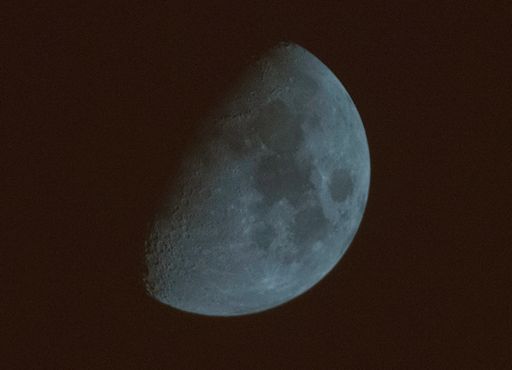 Blue moons are not as rare as folklore would have us believe. They usually appear after volcanic eruptions or major forest fires fill the air with ash and dust. If the airborne particles are just the right size--about 1 micron (one millionth of a meter) wide--they act like a color-filter, tinging the moon blue. Clouds of fine-grained Mongolian sand can do the same thing.
China is increasingly affected by dust storms as its cities expand towards nearby deserts, which in turn have been spreading due to climate change. Are more blue moons in the offing? The ongoing storm in Beijing is expected to last at least one more day.
Bron:
http://spaceweather.com/