Extreme kou en veel sneeuw in delen van de VS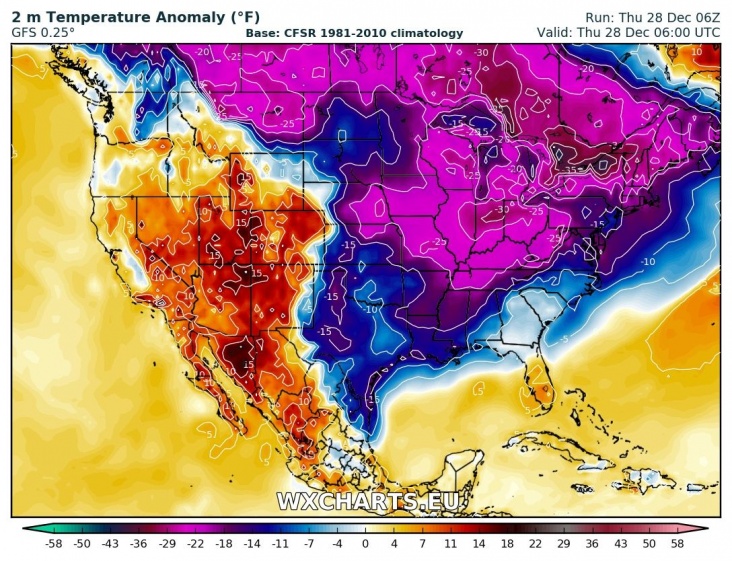 In grote delen van de VS is het de afgelopen dagen erg koud geweest met zelfs records tot gevolg. Ook is er in een gebieden rond de Great Lakes veel sneeuw gevallen. Deze sneeuw ontstaan wanneer koude lucht over het warme water van de meren strijkt. Dit effect zien we ook terug boven de Noordzee wanneer koude polaire lucht over de Noordzee stroomt en er talrijke buien ontstaan. Een aantal regio's rond de Great Lakes staan bekend om de grote hoeveelheden sneeuw die daar soms vallen. Verwacht wordt dat de kou nog een tijdje zal aanhouden.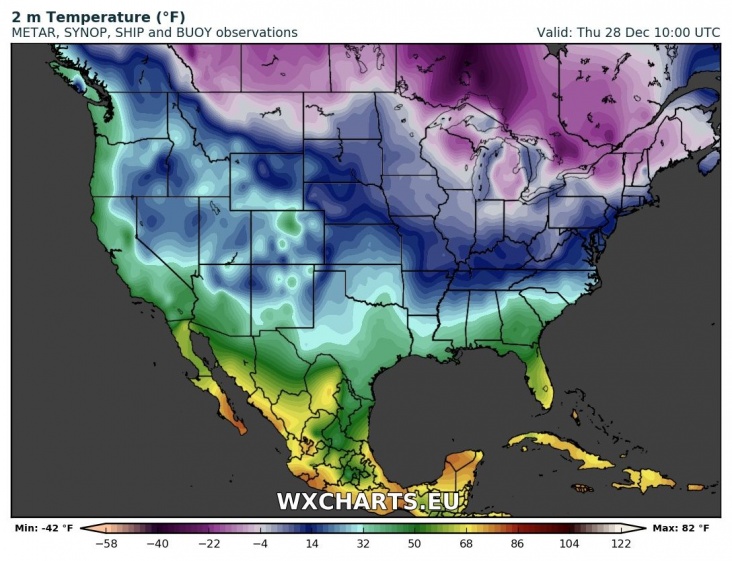 Erie, #PA got 34 inches, yep you read that right-- 34" of #snow in just 24 hours on Christmas Day. That is the most snow they have ever recorded in a single day and snow is still falling in the city. pic.twitter.com/62E556pIBb

— AMHQ (@AMHQ) 26 december 2017
1,5 meter 'Lake Effect snow' in Erie in de VS. Foto van Savanna Smith.https://t.co/ZYJWesnUyh pic.twitter.com/XuCyZgIRnC

— JAN VISSER (@janvissersweer) 27 december 2017
Updated snowfall totals from the lake effect snow event off Lakes Erie and Ontario during the last few days. pic.twitter.com/gS7AbC9txD

— NWS Eastern Region (@NWSEastern) 27 december 2017
You know it's cold when you've bottomed out our temperature dials

-30° in Watertown, NY is the coldest December temperature there in 28 years! #ItsSoCold pic.twitter.com/bEkm7sij9A

— Greg Diamond (@gdimeweather) 28 december 2017
| Gewijzigd: 28 december 2017, 12:33 uur, door Lako
#KeepOnSmiling
Tientallen mensen urenlang vast op New Yorkse veerboot bij -7 graden
Een veerboot van New York Ferry met 27 mensen aan boord is gistermiddag vastgelopen op een zandbank. De boot vertrok rond 17.00 uur uit de haven van het schiereilandje Rockaway in de wijk Queens en was op weg naar het zuiden van Manhattan. "Het ging al vrij snel mis", vertelt de 21-jarige Jake Nicholson in Daily News New York. De boot kwam met een schok tot stilstand, het was duidelijk dat we iets geraakt hadden." Nicholson, die op weg was naar een ijshockeywedstrijd, werd door de schok half over de rij stoelen voor hem geslingerd.
Verwarming hield ermee op
De schipper probeerde het vaartuig nog los te krijgen, maar zonder resultaat. Reddingsdiensten konden door het lage waterpeil niet met normale reddingsboten in de buurt komen en om acht uur hield ook de verwarming ermee op, terwijl het buiten -7 graden was.
Het duurde uiteindelijk zes uur voor alle passagiers van de veerboot waren gehaald. Ze kregen reddingsvesten om en moesten in de ijskoude wind een voor een van een ladder af in een rubberen bootje klimmen dat hen naar een groter reddingsschip bracht. In zo'n bootje pasten twee personen per keer. Om 23.00 uur was iedereen van boord, niemand raakte gewond.
Pas net in gebruik genomen
De veerdienst van Rockaway naar het centrum is pas onlangs in gebruik genomen. De dienst wordt door een private rederij uitgevoerd en wordt gesubsidieerd door de gemeente. De meeste veerdiensten in New York zijn gratis, maar voor deze lijn moeten de passagiers 2,75 voor een kaartje betalen. Het is niet de eerste keer dat het mis gaat met deze dienst. Vorige maand liep ook al een veerboot vast bij Manhattan. Het schip liep vast op een onder water gelegen pier en maakte water. Ruim honderd passagiers moesten toen in alle haast van de veerboot worden gehaald.
Bron: NOS.nl
UPDATE: @NYCferry boatstillstranded. @FDNY removingpassengers2 at a time, becausethe onlyboattheycanget close enoughis TINY. As of 9:30pm, they'd removed14 of 27 people. No injuries. Picson ferry h/t JakeNicholson#abc7ny pic.twitter.com/SLeJ011bu1

— Josh Einiger(@JoshEiniger7) 28 december 2017
#HappeningNow #NYPD Harbor& @FDNY are coordinatinganeffort torescuepassengersfroma groundedferry in the v/o Jamaica Bay. NYPD SCUBA personnelare on board andassistingpassengersoff the disabledvesseltoa #FDNY boat. pic.twitter.com/ijg8fKwRX8

— NYPD Special Ops(@NYPDSpecialops) 28 december 2017
| Gewijzigd: 17 januari, 18:21 uur, door Onweer-Online.nl
#KeepOnSmiling
Record-Breaking Winter Weather Grips Northern U.S.
CHICAGO — Winter snowstorms and subzero temperatures are a teeth-chattering part of life in the Midwest and Northeast. But familiarity has offered little insulation this week as records fell, water pipes froze and snow piled up in a large swath of the United States. The blast of frigid misery hit Boston and Bismarck, N.D., and most points in between, leading to record-tying temperatures in Detroit and historic snowfall in Erie, Pa., where more than 65 inches had piled up between Sunday evening and Wednesday afternoon.
Here in Chicago, as temperatures hung in the single digits and snow loomed in the forecast, sidewalk signs warned well-bundled pedestrians to beware of falling ice. And in Green Bay, Wis., where the local football stadium is known (lovingly) as the Frozen Tundra, downtown traffic was snarled Wednesday when a drawbridge became stuck in its lifted position.
They're electrical and they're hydraulic, neither of which react very well to cold," said Steve Grenier, the city's director of public works. But in Green Bay and other cities used to harsh Decembers, the cold was greeted with matter-of-fact pragmatism. The bridge was lowered after about three hours, and a ship made it through the chilly waters unharmed. y"That's winter in Wisconsin," said Mr. Grenier, whose crews were also working to remove large snowbanks from downtown. "It's nothing really out of the ordinary."
Still, even ordinary cold can be dangerous. Across the northern half of the country, police departments responded to crashes on icy roads and local governments issued safety warnings. Four people were killed in an interstate crash on Tuesday near Abilene, Kan. The Highway Patrol said weather had played a role.
In St. Louis, where temperatures were expected to stay below freezing for at least a week, additional shelter beds were made available for the homeless. Mayor Joe Hogsett of Indianapolis warned of "extreme cold" in his city and offered tips on identifying frostbite and hypothermia. And in New York, a "Code Blue" was declared for the city's homeless, guaranteeing them overnight shelter.
"We strongly encourage all New Yorkers to stay inside as much as possible during this week as the cold weather continues," Mayor Bill de Blasio wrote Wednesday on Twitter. "Check on neighbors when you can and bring your pets inside." For North Dakota, Wednesday was something of a reprieve.
"Actually, today we're up to positive six," said Zack Hargrove, a meteorologist with the National Weather Service in Bismarck. "That's nice. The last two days, we didn't get above zero." The cold weather was not expected to relent soon. Mr. Hargrove said weekend highs in Bismarck could be around minus 12. In Boston, wind chills overnight Wednesday were expected to reach minus 10. And in Arlington Heights, Ill., the police said they had canceled a drunken-driving checkpoint scheduled for Friday "due to extreme cold." The bitter weather was not without redeeming qualities. City crews in Lawrence, Kan., were preparing an ice-skating rink in a park, a tradition that the local newspaper said had melted away in recent warm winters.
Bron: nytimes.com
| Gewijzigd: 17 januari, 18:22 uur, door Onweer-Online.nl
#KeepOnSmiling
Deep freeze keeps grip on eastern United States, expected to ease from mid-week
Chiberia Morning 2018, minus-6 degrees #chicago #weather #winter #ilwx #news pic.twitter.com/ytrm1y1ct0

— Barry Butler (@barrybutler9) 1 januari 2018
(Reuters) - A record-shattering arctic cold wave kept its grip on much of the United States east of the Rocky Mountains on Tuesday but temperatures everywhere except the northeast were expected to warm thereafter. Schools remained shut as a result of the cold snap, which claimed four lives over the long New Year weekend.
The National Weather Service issued wind chill warnings for Tuesday as dangerously low temperatures were possible from eastern Montana across the Midwest, into the Atlantic Coast and the Northeast and down through the deep south.
School districts in Iowa, Massachusetts, Indianapolis and Northeast Ohio canceled or delayed the start of classes on Tuesday as bitterly cold temperatures 20 to 30 degrees Fahrenheit (11 to 17 degrees Celsius) below normal were expected across the eastern half of the United States.
"Just the bitter cold which is just too dangerous to put kids out on the street waiting for a bus that may not come," said Herb Levine, superintendent of the Peabody School District, north of Boston, to a local CBS affiliate television station.
Lake Ontario (Sodus Point, NY) is quickly taking on the look of Antarctica. Wind chill could hit -20 tonight @spann @JimCantore @StormHour @TomNiziol @StephanieAbrams @NWSBUFFALO @I_LOVE_NY pic.twitter.com/Tw6LslSio2

— John Kucko (@john_kucko) 1 januari 2018
The bitter cold was blamed on the deaths of two men in separate incidents in Milwaukee, according to the Milwaukee Journal Sentinel. Another man was found frozen to death outside a church in Detroit while a homeless man was found dead on a porch in Charleston, West Virginia, local news reported.
Many places across the United States saw record low temperatures over the last few days. Omaha, Nebraska, posted a low of minus 20 F (minus 29 C), breaking a 130-year-old record, and Aberdeen, South Dakota, shattered a record set in 1919 with a temperature of minus 32 F (minus 36 C). The cold should ease across most of the United States after Tuesday, but the northeastern quarter of the country will see a repeat of the frigid temperatures from Thursday to Friday as another arctic blast hits the area. The private AccuWeather forecaster said the cold snap could combine with a storm brewing off the Bahamas to bring snow and high winds to much of the Eastern Seaboard as it heads north on Wednesday and Thursday.
Bron: Reuters.com
| Gewijzigd: 17 januari, 18:24 uur, door Onweer-Online.nl
#KeepOnSmiling
Storm to produce blizzard conditions in parts of New England, graze mid-Atlantic coast later this week
Bron afbeelding: @trevkeller | Twitter
A major storm will track close enough to the East Coast of the United States to bring snow to some areas and windy conditions to much of the Atlantic Seaboard later this week.The storm will have both direct and indirect impacts from Florida to Maine and Atlantic Canada. Arctic air will remain in place and will spread southward into Florida as the storm brews a few hundred miles offshore over the Atlantic Ocean and races northward on Wednesday and Thursday. During this period, the storm may undergo rapid strengthening, sometimes referred to as bombogenesis. At this time AccuWeather meteorologists believe the heaviest snow from the storm will fall on Maine and New Brunswick, Canada, where a blizzard is forecast to unfold.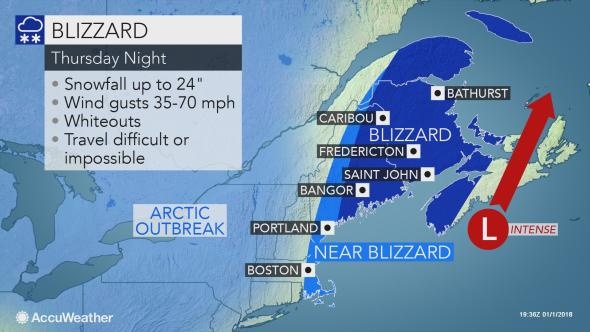 A blizzard is a storm that produces snow or blowing snow with winds in excess of 35 mph and a visibility of one-quarter of a mile or less for at least three consecutive hours.
There is the potential for not only a foot (30 cm) or more of snow to fall, in Maine and New Brunswick, but also the risk of hurricane-force winds and frigid air at the same time. Tremendous blowing and drifting snow is likely and some communities may be isolated for several days in the wake of the storm. Some of these same communities may be without power.
The storm is likely to track close enough to the coast to throw some moisture over land in the mid-Atlantic and the Southeast states. That moisture will be in the form of snow to some areas of the Atlantic coast from the northeastern corner of Florida to the coastal areas of the Carolinas and Massachusetts.
Whether a few flakes or several inches of snow fall will depend on the exact track of the storm and how quickly moisture is thrown westward as the storm strengthens. There is a chance of enough snow to make roads slippery in Wilmington, North Carolina; Atlantic City, New Jersey; New York City and Boston. A significant amount of wind-driven snow may fall on Cape Cod, Massachusetts.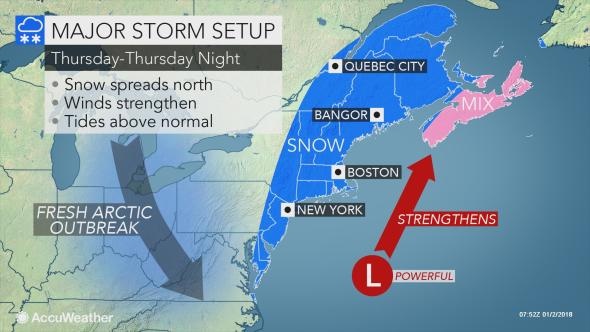 Even if the heaviest snow slides to the east, the combination of wind and lesser snowfall is likely to bring blizzard conditions at times to central New England. If the storm tracks within 100 miles of the coast, a blizzard and major travel disruptions may occur over the Interstate 95 corridor of the mid-Atlantic. No snow is likely to fall on the central and southern Appalachians from the Atlantic storm later this week.
However, intermittent snow may fall in these areas from a fresh injection of arctic air arriving, while lake-effect snow ramps up once again near the Great Lakes. Regardless, as the storm strengthens, winds will increase hundreds of miles away from the center of the circulation beginning Wednesday and Wednesday night. Blustery and cold conditions are in store as far south as Florida, the Bahamas and Cuba.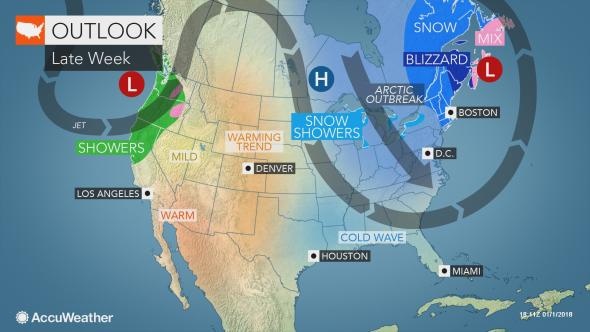 Winds strong enough to trigger airline delays are likely in the major hubs of the Northeast, from Washington, D.C., to Philadelphia, New York City and Boston from Thursday to Friday. The strong winds and arctic air will add to the frigid weather pattern. Seas will build to dangerous levels for small craft off the mid-Atlantic, New England and southeastern Canada coasts.
Bron: AccuWeather.com
| Gewijzigd: 17 januari, 18:25 uur, door Onweer-Online.nl
#KeepOnSmiling
In beeld: ijskoud winterweer in de Verenigde Staten
Grote delen van de Verenigde Staten kreunen onder het winterweer met op sommige plaatsen gevoelstemperaturen tot min 20 graden Celsius. Dat koude weer levert ook mooie, maar soms ook schrijnende beelden op. 09:08In New Jersey liggen ettelijke centimeters sneeuw.
Deze man met wandelstok is er helemaal in weggezakt.
2018 Getty Images
Winterweer is niet alleen doffe ellende zoals deze kinderen in New York aantonen.
2018 Getty Images
Niet alles is koud in dit weer. In New Jersey moest de brandweer uitrukken voor een brandende auto.
Copyright 2018 The Associated Press.
Vooral voor daklozen is het koude winterweer levensgevaarlijk, vraag het maar aan deze man in Boston.
Getty Images
Ook in New York hangen in dit weer nog veel daklozen rond op straat. Nochtans zijn er speciaal voor de sneeuw bijkomende opvangcentra geopend.
2018 Getty Images
Deze man probeert een voetpad sneeuwvrij te houden in Boston. Het lijkt dweilen met de kraan open.
AP2017
Boottochten zitten er niet meteen in hier in New Jersey. Het water is zeker aan de waterkant bevroren.
Copyright 2018 The Associated Press.
Niet alleen de noordelijke staten aan de oostkust hebben last van de koude. Deze planten in Florida, de Sunshine State, zijn bedekt met een laagje
ijs.
Copyright 2018 The Associated Press.
Op het anders zo drukke Times Square in New York is het relatief rustig. Los dan van het lawaai van de sneeuwruimers.
Copyright 2018 The Associated Press.
Met dit weer gebeuren er vanzelfsprekend ook verkeersongevallen. Deze vrachtwagen is gekanteld in de staat Delaware.
2018 Getty Images
Onder meer in de staat Massachusetts zijn er ook ijskoude overstromingen.
Copyright 2018 The Associated Press.
Overstroomde straten vriezen daarna soms dicht. Deze auto in Boston zit zo helemaal vast in het ijs.
AP2017
Auto's kunnen ook helemaal vast zitten in de sneeuw, zoals deze auto in New Jersey.
Copyright 2018 The Associated Press.
Lokaal kan door de hevige sneeuwval de zichtbaarheid zeer beperkt zijn.
Copyright 2018 The Associated Press.
Ook in hoofdstad Washington DC heeft het gesneeuwd. Het vriest er hard genoeg zodat er kan geschaatst worden in de buurt van het Washington Monument
Copyright 2018 The Associated Press.
Ook in de buurt van Chicago is het ijskoud. De ijsschotsen drijven er in het water van het Michiganmeer.
Copyright 2018 The Associated Press.
Bron:
https://www.vrt.be
| Gewijzigd: 17 januari, 18:25 uur, door Onweer-Online.nl
De VS wordt geteisterd door een "bomcycloon", maar wat is dat eigenlijk?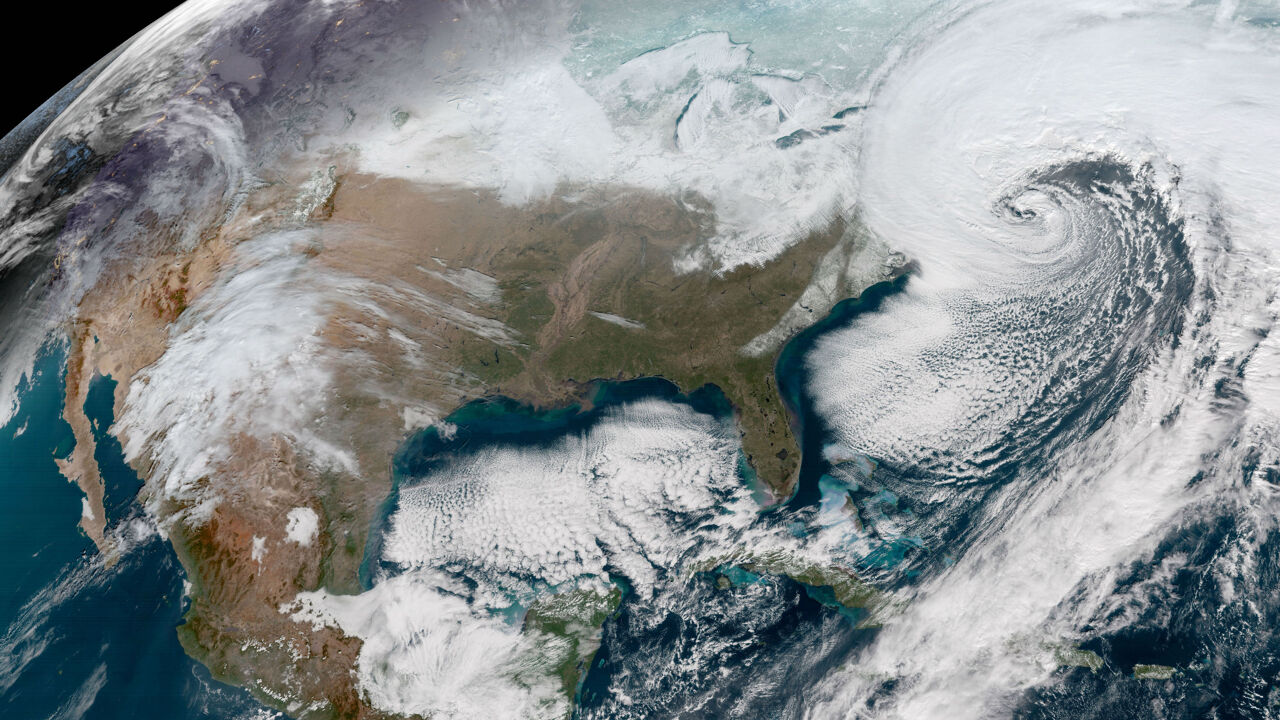 De oostkust van de Verenigde Staten wordt al een hele week geteisterd door een hevige winterstorm. In Amerika spreken ze over een "bomcycloon". Een term die speciaal voor deze winterstorm is bedacht.
De officieuze term "bomcycloon" verwijst naar een cyclogenese, een verschijnsel waarbij de luchtdruk in het centrum van een lagedrukgebied snel en scherp daalt. Hierdoor kunnen hevige winden ontstaan die rond het centrum draaien en zo de eigenschappen krijgen van een orkaan of cycloon. Het voorvoegsel bom verwijst naar het explosieve karakter van het weersverschijnsel.
IJskoude lucht en warm oceaanwater
Een "bomcycloon" ontstaat net als een gewone cycloon boven de oceaan, als koude lucht in contact komt met warm water. In het geval van een "bomcycloon" gaat het om ijskoude lucht afkomstig van het Canadese vasteland, dat in contact komt met warmer water van de Atlantische Oceaan.
De "bomcycloon" die de oostkust van de Verenigde Staten momenteel treft, gaat gepaard met windsnelheden tot 120 kilometer per uur en vriestemperaturen van -40 graden. Meteorologen verwachten dat het gure winterweer in Amerika nog tot het weekend zal aanhouden.
Powerful winter storm seen by @NASAEarth satellites as it pummels the East Coast of the United States. Take a look: https://t.co/SIBTq0tfZ7 pic.twitter.com/4PaknXuLH7

— NASA (@NASA) 5 januari 2018
Bron:
https://www.vrt.be
"Nu al 17 doden door het winterweer in de VS"
Het strenge winterweer in het noordoosten van de Verenigde Staten heeft al 17 mensenlevens geëist. "Het is hier bitter koud en heeft enorm veel gesneeuwd", zegt VRT-correspondent in de VS Björn Soenens. "46.000 mensen zitten zonder stroom, geen pretje bij dit weer.
Op dit moment is het op sommige plaatsen in de Verenigde Staten nog hevig aan het sneeuwen en wanneer de sneeuwval ophoudt, verwachten de weervoorspellers een steile duik van de temperatuur. Zo koud zal het, nog altijd volgens de meteorologen, sinds mensenheugenis in de VS niet geweest zijn.
"Hier in New York ligt toch 20 à 30 centimeter sneeuw", zegt Soenens. "Het is nu -8 graden, maar zal tegen de ochtend toch -12 graden Celsius worden." Naast de hevige sneeuw staat er ook een ijskoude wind. "Die wind zorgt ervoor dat de sneeuw ophoopt en maakt de koude nog bijtender dan die al is."
Copyright 2018 The Associated Press.
Het winterweer heeft Manhattan alvast omgetoverd in een soort "winter wonderland", aldus Soenens. "Normaal is dit zo'n drukke plek. Zeker in de buurt van Trump Tower en 5th Avenue. Nu is het bijna verlaten", zegt hij. "Er zijn amper auto's en voetgangers. Er hangt een zeer bevreemdende sfeer die alleen wordt verstoord door het geluid van de sneeuwruimers."
Copyright 2018 The Associated Press.
In Boston zijn er overstromingen geweest door het winterweer. "Dat is geen water van redelijke temperaturen", legt Soenens uit. "Er drijven ijsschotsen door de overstroomde straten." Bovendien zitten ook veel mensen door het slechte weer zonder stroom. "Alles samen hebben 46.000 mensen momenteel geen elektriciteit. Veel elektriciteitsdraden liggen hier nog boven de grond, als een elektriciteitspaal knakt zitten al snel duizenden mensen zonder stroom."
AP2017
Het winterweer heeft nu al 17 doden geëist en dat is volgens Soenens onder meer het gevolg van die slechte infrastructuur. "Er is al 50 jaar niet meer deftig in geïnvesteerd. De doden die vallen die vriezen niet allemaal dood. Sommigen sterven door elektrocutie van geknakte elektriciteitspalen." Het einde van de koude is wel in zicht. "Vanaf maandag zet de dooi in. Dan worden temperaturen van boven de nul graden voorspeld."
Bron:
https://www.vrt.be
| Gewijzigd: 17 januari, 18:26 uur, door Onweer-Online.nl