Cycloon Gita
Cycloon Gita trekt op dit moment over de eilanden Tonga in de Stille Oceaan. De storm is een categorie 4 storm en verwacht wordt dat de storm ook voor de nodige problemen gaat zorgen. De komende dagen gaat de storm langzaam in kracht afnemen en afbuigen richting het zuidwesten. Maar de eilandengroep Fiji gaat de invloed van de storm merken.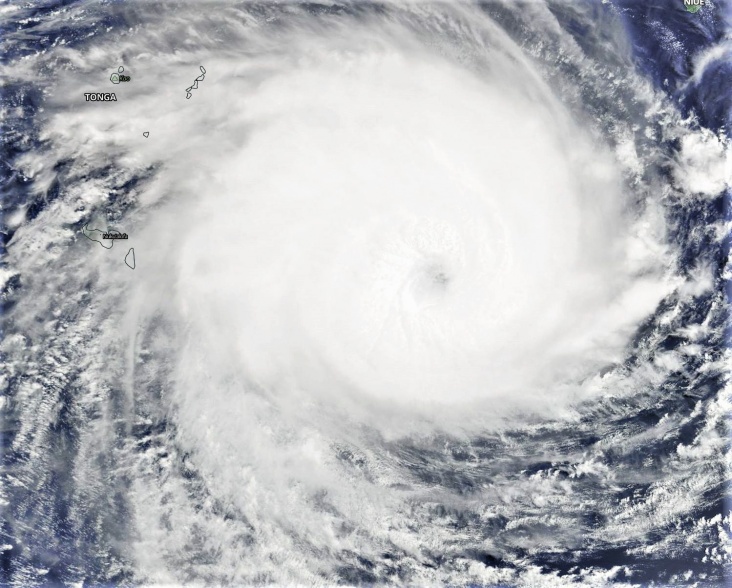 Bron afbeelding: Worldview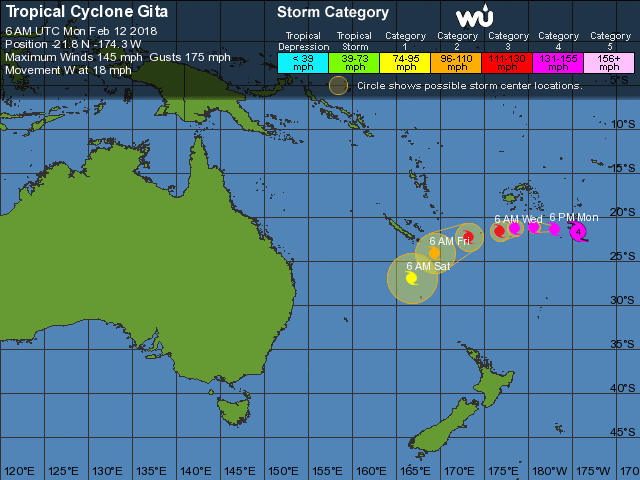 Bron afbeelding: Wunderground.com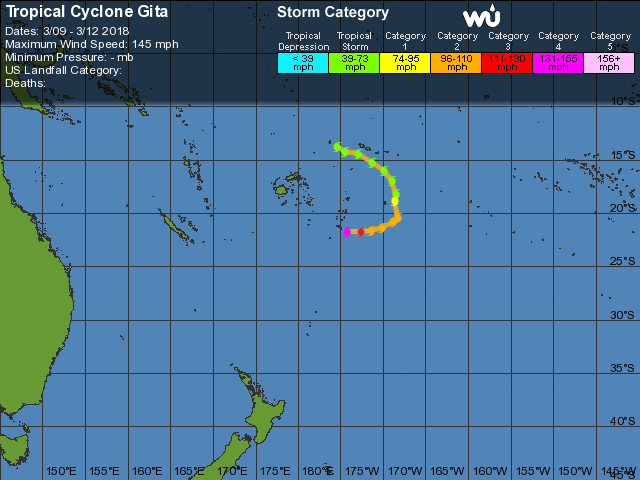 Bron afbeelding: Wunderground.com
| Gewijzigd: 13 februari 2018, 09:19 uur, door Lako
#KeepOnSmiling
Cycloon Gita zorgt voor veel schade in Tonga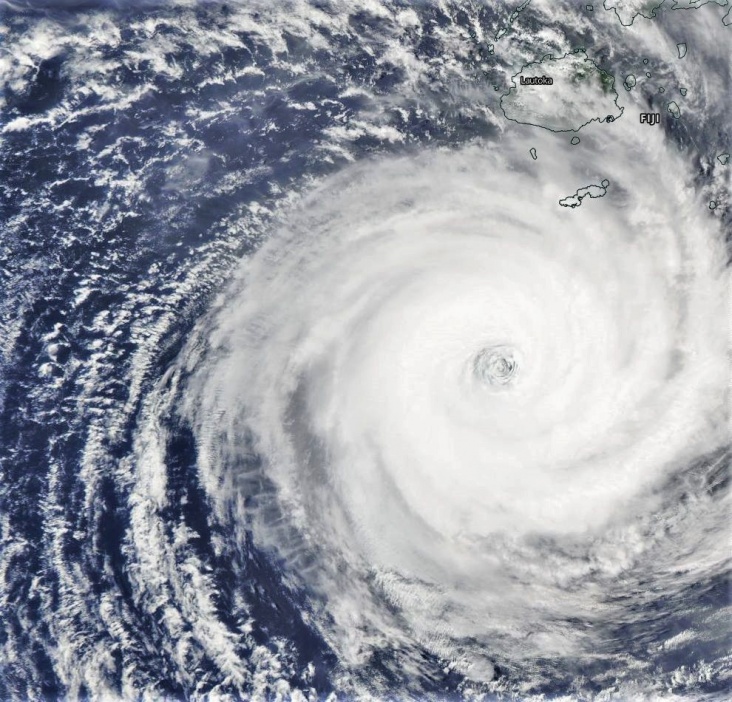 Bron afbeelding: Worldview
Categorie 4 cycloon Gita heeft voor veel schade gezorgd op de eilandengroep Tonga maar berichten over slachtoffers zijn er (nog) niet. Op dit moment beïnvloed de storm de zuidelijke Fiji eilanden maar de kern van de storm blijft op zee. Wel gaat de Franse eilandengroep Nieuw-Caledonië nog met de storm te maken krijgen. Maar de storm is dan al afgezwakt tot een categorie 1/2 storm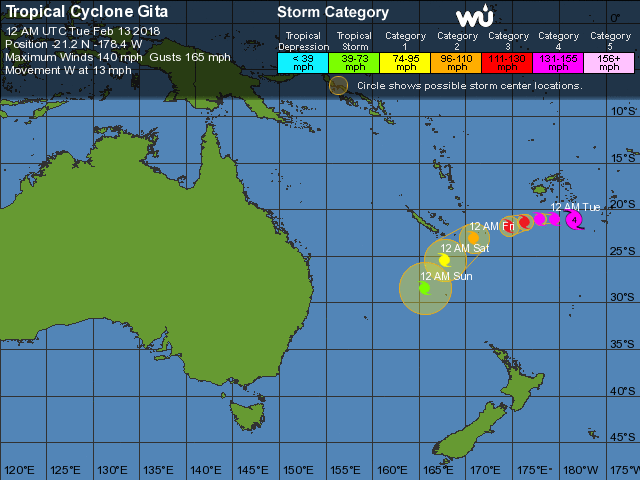 Bron: Wunderground.com
7.30am my street is getting a... make over. Chainsaws and machetes are already out and at work. My neighbours are not wasting time#Gita #CycloneGita #tonga pic.twitter.com/2wN2kBZspY

— Virginie/ Sini -livetweeting Gita from Pahu (@VDakaSini) 12 februari 2018
Tonga's Parliament House flatted by cyclone #Gita #tonga @NewshubNZ #tcgita pic.twitter.com/p9ydVUponR

— Michael Morrah (@MichaelMorrah) 12 februari 2018
Cyclone #Gita: Water, shelter and food main needs in #Tonga https://t.co/ZzuucaTrLq #DAFN #hmrd

— Humanity Road (@HumanityRoad) 13 februari 2018
| Gewijzigd: 19 februari 2018, 12:10 uur, door Lako
#KeepOnSmiling
Cyclone Gita to blast New Zealand with damaging winds, flooding rain Tuesday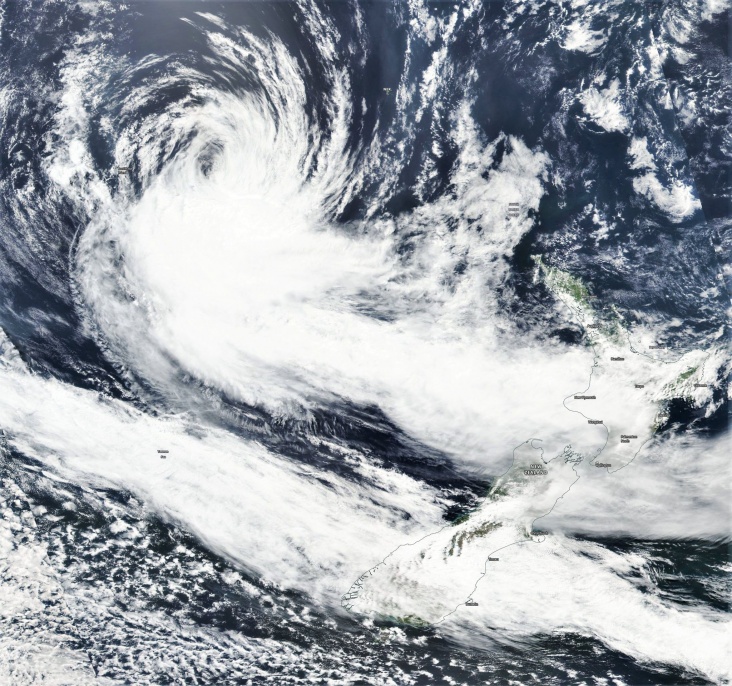 Bron afbeelding: Worldview
Gita remains on track to slam into New Zealand with heavy rain and strong winds around Tuesday. Gita will remain past its peak intensity and have transitioned to a non-tropical storm when it barrels across New Zealand. However, residents should not let their guard down.
"Gita will still be a powerful storm as it accelerates toward New Zealand," AccuWeather Meteorologist Jake Sojda said, "and will bring damaging winds and flooding rain to parts of the nation Tuesday into Tuesday night, local time." Flash flooding, widespread tree damage and sporadic power outages may result. The strong winds will also stir up rough seas, creating dangerous conditions for boaters.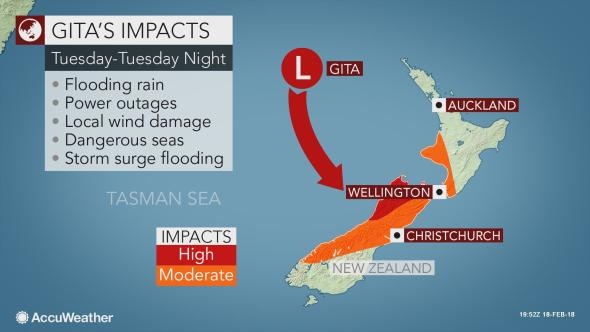 Bron afbeelding: accuweather
Travel and daily routines can be impacted in Wellington and Christchurch. Latest indications are that Gita will make a landfall on the northwest coast of South Island. Travelers should prepare for disruptions, including flight and bus cancellations. Officials may be forced to close schools.
Although a landfall is expected on South Island, communities on North Island such as Wellington can expect to see some rain and wind. With this track, the threat for heaviest rain and dangerous flash flooding would be focused on the upper South Island, especially in the northern ranges of the South Island. Westport could be a hard-hit community with wind gusts strong enough to down trees and cause some damage. Landslips will also become a significant concern in the higher terrain.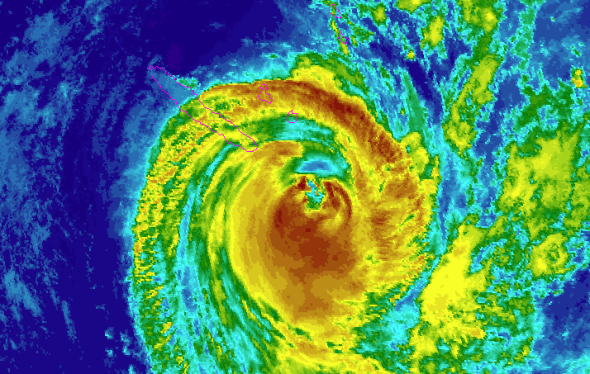 Gita was a severe tropical cyclone (the equivalent of a hurricane in the Atlantic or eastern Pacific oceans) when it passed south of New Caledonia on Friday night. Bron afbeelding: NOAA
"The northern ranges of the South Island will be more susceptible to flooding and slips with heavy rain early this weekend preceding Gita," Sojda said.
"A significant storm surge and coastal flooding will also be a threat along the western coast, to the north of the storm track," Sojda said. While the threat for flooding will not be the highest in Wellington, strong winds will cause seas to build, possibly canceling ferry service on Tuesday.
Residents across New Zealand are urged to continue to monitor the progress of Gita and begin making preparations for possible power outages. Any trees that are weak and could be easily brought down by strong winds can be trimmed. Anyone living in areas prone to flooding and slips should review evacuation plans and be ready to leave at a moment's notice. Residents can also prepare by ensuring storm drains are clear.
Ships traveling to or from New Zealand should consider alternate routes, while other boaters should begin preparations to protect ships currently docked at ports. Gita already left a trail of destruction from American Samoa to Tonga earlier this week. "At its closest approach to Tonga, Gita was equal to a Category 4 hurricane in the Atlantic and east Pacific oceans with sustained winds of 232 km/h (144 mph)," AccuWeather Senior Meteorologist Eric Leister reported.
Bron: Accuweather.com
#KeepOnSmiling
Former cyclone Gita hits New Zealand; emergency declared in southern city
WELLINGTON (Reuters) - New Zealand's national carrier on Tuesday canceled all flights in and out of the capital, Wellington, and the southern city of Christchurch declared a state of emergency as the remnants of tropical cyclone Gita pummelled the country.
Even before the storm hit in full force, heavy rains in the center of New Zealand brought floods in Christchurch, prompting a warning from Mayor Lianne Dalziel. "The full impact of the storm will be felt overnight and tomorrow morning," she said, urging residents of low-lying areas to evacuate. "We are expecting homes to be flooded."
Air New Zealand said all flights to the capital would be grounded from 2.45 p.m. (0145 GMT) as weather authorities issued warnings of severe weather and heavy rain and gusts of up to 150 kph (93 mph).
Prime Minister Jacinda Ardern said troops had fanned out to areas likely to be the hardest hit and the national Civil Defence office in Wellington was on standby to help. "My message still to people is please look out for your local warnings and expect disruption to travel and please just be careful," she told reporters at parliament.
Cyclone Gita hit the Pacific island nations of Fiji and Tonga last week, packing winds up to 275 kph (171 mph). Fiji escaped major damage but Tonga suffered widespread destruction and flooding. Earlier, the storm had caused extensive damage in Samoa and American Samoa. The cyclone had since been downgraded to a storm, but forecasters said it was still likely to wreak havoc on Tuesday evening as it traversed the center of New Zealand.
Parts of the country are still reeling from a huge storm that prompted authorities to declare states of emergency at the beginning of February. More than 40 schools and preschools shut in the upper South Island, while mayors urged people to stay home.
Transport authorities shut a stretch of highway along the east coast of the South Island and the Department of Conservation was closing seaside hiking tracks and campsites along the West Coast and ushering tourists away from low-lying areas, media said.
Bron: Reuters.com
Good thing Westland Milk Products and @DairyNZ decided to postpone tonight's M Bovis briefing with MPI - new date to be confirmed. #CycloneGita taking the roof off the venue @ktmilne6 be safe out there people! pic.twitter.com/Ofbc0e6eb2

— Vanessa Winning (@WinningV1) 20 februari 2018
Pic from around Coastal Taranaki from my cousin ???? #CycloneGita pic.twitter.com/JyygcZPu3A

— Chanelle (@Chandy229) 20 februari 2018
Motueka river swollen as this evening! #CycloneGita #WeatherWatchNZ #MetserviceNZ pic.twitter.com/DDENERiBbR

— Clinton Ogilvie (@takakahill) 20 februari 2018
#KeepOnSmiling