Historic 'bomb cyclone' sets off severe storms, flooding, and a 'dangerous' blizzard in Plains and Midwest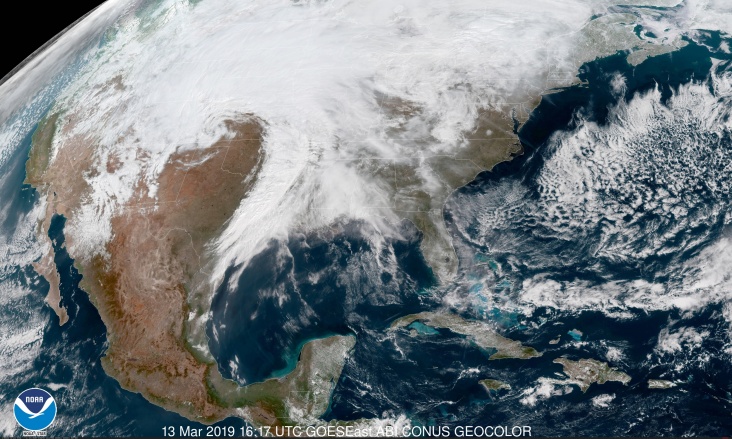 Bron afbeelding: NASA
An explosively intensifying winter storm centered over the Colorado Front Range continues to unleash a potpourri of extreme weather across the Plains states and Upper Midwest. The hurricane-force low has combined the worst weather of all four seasons into one — from a string of violent tornadic thunderstorms to damaging winds, blizzard conditions and even flooding.
It's a storm for the record books, strengthening from a run-of-the-mill weather disturbance into a historic cyclone in just 24 hours. Its central pressure dropped more than 24 millibars from Tuesday to Wednesday, meeting the criteria of a meteorological "bomb." The storm made this transformation over land, rather than water, which is rare.
On Wednesday morning, the storm's pressure had dropped to the equivalent of a Category 2 hurricane. A storm this extreme was triggering extreme impacts, which are predicted to intensify Wednesday and Wednesday night. Tuesday began with a funnel cloud whirling ominously over Mesa, Ariz. Tornadoes touched down in Loving, N.M., and Hagerman, 50 miles to the north-northwest.
Storms continued after dark from the Texas Panhandle to the Concho Valley after dark, a possible tornado touching down just northwest of Anton. Baseball sized hail left multiple vehicles destroyed farther south in Ward County along Interstate 20.
The storms congealed into a squall line that blasted east overnight, scouring the Lone Star State with widespread damaging winds topping 70 mph early Wednesday. A gust to 78 mph rocked Dallas-Fort Worth International Airport, the strongest since at least 1995. The winds ripped a roof off an Amazon warehouse near the airport
WATCH: Powerful winds rip the roof off an Amazon warehouse near DFW Airport during severe storms Wednesday morning. https://t.co/ZNLpWPLP9C pic.twitter.com/fRZvryIG9F

— NBCDFW Weather (@NBCDFWWeather) 13 maart 2019
Over 150,000 customers lost power in Texas from the violent winds. More dangerous thunderstorms are in the offing Wednesday. The Storm Prediction Center has designated portions of the lower Mississippi River Valley in an "enhanced risk" zone for severe weather, including eastern Arkansas, southwest Tennessee, and the northwest corner of Mississippi.
Winds are also roaring outside of thunderstorms. High wind warnings stretched from New Mexico to Nebraska for gusts up to 60 mph (and 80 to 100 mph at high elevations) while advisories for gusts up to 40 to 50 mph extended as far east as western Tennessee.
Air pressures have been falling steadily while the storm gathers steam. Pueblo, Colo., saw itspressure sink to 975.1 millibars, unofficially its lowest on record, on Wednesday morning.
Wednesday afternoon, Dodge City, Kan., may flirt with its lowest pressure ever recorded — 971.6 millibars, according to the National Weather Service. The last time their barometer dipped below 975 millibars was in 1960.
To understand the significance of this record "low pressure," consider a whirlpool generated by stirring your morning coffee. The more intense your stirring, the more pronounced the depression in the coffee's surface. A dramatic dip indicates an intense cyclone, and in parts of Colorado and likely Kansas, the surface of this "atmospheric whirlpool" has dipped closer to the ground there than during any such system in the past.
An incredible storm system is taking shape in the central U.S. with blizzard conditions & high winds across several states. Travel will be treacherous in locations, and the combo of snow and wind will likely lead to power outages. Find your local office - https://t.co/NNXwXbQUSd pic.twitter.com/Yr6FAjFIzO

— NWS (@NWS) 13 maart 2019
Meanwhile, cold air surging down from Canada entailed into the backside of the system is leading to a "dangerous" blizzard from northeast Colorado to northwest Minnesota. Blizzard warnings stretch nearly 800 miles.
The clash of seasons has been dramatic in a number of spots, but few more so than Denver. Now under the blizzard warning, the Mile High City hit 62 degrees Tuesday before falling to freezing Wednesday morning as rain transitioned to heavy snow. Six to 12 inches are forecast as temperatures fall through the 20s. As winds gust up to 70 mph, whiteout conditions could develop as well as power outages. Winds were already gusting to nearly 60 mph Wednesday morning.
"Travelers across the Colorado mountains and eastern plains should consider canceling travel plans," the Weather Service office serving Denver and Boulder warned. "Be aware that if you go somewhere this morning, you could become stranded"
Farther to the north in southeast Wyoming and western Nebraska into western and central South Dakota, conditions were expected to be more severe with up to one to two feet of snow combined with 50 to 70 mph gusts (and up to 80 mph at high elevations).
Blizzard conditions developing I80 east of Cheyenne WY. Heading to NE Panhandle target @breakingweather @accuweather pic.twitter.com/JMlSEIfGKg

— Reed Timmer (@ReedTimmerAccu) 13 maart 2019
On the storm's warmer side, heavy rainfall could lead to flooding from Kansas through the western Great Lakes. The National Weather Service warned of "prolonged, major flooding"along the Missouri River and its tributaries Wednesday and Wednesday night. It said the combination of downpours and rapid snowmelt would likely elevate the river to major flood stage, not cresting until some time after the rain ends.
In eastern South Dakota, Iowa, southern and eastern Minnesota and much of Wisconsin, ice jams were expected on rivers due to the combination of rain, melting snow and thawing temperatures.
The National Weather Service office serving Green Bay also warned that the periodic rains falling on a dense snowpack "will add weight to [snow-covered roofs], possibly leading to structural damage."
The sprawling storm system will taper down Thursday, departing into the east and becoming absorbed in larger scale flow to the north. In its wake, a shot of cold arctic air will descend over the Midwest and Northeast.
Bron: Washingtonpost.com
#KeepOnSmiling
Woonplaats: Wageningen
Berichten: 2431
Lid sinds: 29 mrt. 2016
Eerder W. in t Erland (Winterland)
Record floods engulf U.S. Central states, rivers to rise in days ahead
Rains that melted a historic snowpack swamped U.S. Central Plains states with record floods on Sunday, breeching river levees and causing two deaths. With water levels expected to rise through the week, evacuations were underway in communities along portions of the Missouri River on the Nebraska and Iowa border, as well as in Nebraska, on the Elkhorn River and Platte River.
"The big ones are at record stages right now," said meteorologist Marc Chenard with the National Weather Service Weather Prediction Center. "There have been some levy breaks so there are towns that are flooded."
The deadly flooding was the aftermath of a late-winter "bomb cyclone" storm that drenched the nation's midsection and kicked into high gear snowmelt after unprecedented winter snowfall. The weather was blamed for two deaths, including one person who died at home after failing to evacuate, and another swept away while trying to tow a trapped car with his tractor.
"That system brought 1 to 3 inches of rainfall but, on top of that, there was already a deep snowpack over much of the area. So a combination of the rain and snow melt had a large volume of water going pretty quickly into the rivers," Chenard said.
Despite relatively dry weather ahead, flooding was expected to persist through the week in Nebraska, South Dakota, Iowa, Minnesota, Wisconsin and Illinois.
"We're looking at widespread flooding that continues until at least early next week in the Plains and Midwest region," Chenard said.
Bron: Reuters.com
No travel out of Brownville, Nebraska! Little foggy out but here is an aerial picture of the town and the other side of the Missouri River! #Nebraskafloods #nebraska #weather #flooding #Brownville March 17, 2019 at 1030am CST @NWSOmaha @spann @LiveStormsMedia @weatherchannel pic.twitter.com/4vARtAst4t

— Josh Alecci (@AlecciJosh) 17 maart 2019
What's left behind from historical flooding in Sioux Falls SD! @breakingweather @WeatherNation @wxnewsdesk @LynnetteGrantWx @Wx_Max @wxnewsdesk @CharlesPeekWX @spann @Livestormchaser pic.twitter.com/a4A343Tfk3

— @justinfrantzen23 (@justinfrantzen6) 17 maart 2019
Highway 281 bridge is out pic.twitter.com/9esVucbURk

— Ben Sasse (@BenSasse) 16 maart 2019
Extensive #flooding in #Iowa & #Nebraska caused by snow melting.
Images detected by #Sentinel3, March 15.
Snow/ice is showed in pink tones, in black rivers/water. #NebraskaFlood #NebraskaFlood2019 #NebraskaFloods pic.twitter.com/ZyjG0Couzp

— Annamaria Luongo (@annamaria_84) 17 maart 2019
.@SenSasse and I joined @NENationalGuard to get an aerial view of flooding impact as we traveled to thank volunteers in Fremont, address a community meeting in Niobrara, and receive a briefing in Lynch. More here: https://t.co/78cd5jkTOG#NebraskaFlood | #NebraskaStrong pic.twitter.com/h32kyx0NE4

— Gov. Pete Ricketts (@GovRicketts) 16 maart 2019
Pretty surreal flying into Omaha. Highways fully submerged. pic.twitter.com/UPUY9fHyXN

— Christopher Heady (@heady_chris) 16 maart 2019
| Gewijzigd: 17 maart 2019, 18:53 uur, door Lako
#KeepOnSmiling