Tropical Storm Warning Along S.E. Coast
A tropical depression off the Southeast coast is the first to threaten the U.S. this hurricane season, and forecasters said Saturday they expect it to strengthen into a tropical storm.
A tropical storm warning was in effect from the northern South Carolina coast to the North Carolina-Virginia border, the National Hurricane Center said. Three to 4 inches of rain had fallen in some areas along the North Carolina coast, and cities were under flood advisories as more rain was expected, said Reid Hawkins, a National Weather Service meteorologist in Wilmington, N.C.
Hawkins cautioned against swimming along the North Carolina coast, citing reports of 6- to 8-feet seas, as well as a danger of rip currents. Most of the strongest winds and rains have remained over water, but forecasters said the storm should move closer to land after it strengthens.
"We've had more isolated rain showers moving on shore," said Jonathan Lamb, a meteorologist with the National Weather Service in Charleston. "It's been very slowly organizing."
At 11 a.m. EDT, the center of the tropical depression was about 90 miles east of Charleston and about 250 miles southwest of Cape Hatteras, N.C. The depression was moving toward the northeast at about 7 mph and was expected to hug the Carolinas' coast during the next two days.
Less than one inch of rain had fallen in Charleston at midday Saturday, and Lamb said only one more shower was expected to pass through the area before the storm spun north toward Wilmington. Maximum sustained winds are near 35 mph with higher gusts. The system would become a named tropical storm if sustained winds reach 39 mph.
The Atlantic hurricane season runs through Nov. 30.
©CBS
| Gewijzigd: 19 juli 2008, 22:11 uur, door Marga
Tropical Storm Cristobal Rumbles off the Carolinas
Surfers hit the waves as Tropical Storm Cristobal treks northeast, parallel to the Carolinas
UPDATES position and projected course of Tropical Depression Three: map shows location of a strong unnamed tropical depression and its projected path as of 2 p.m. EDT; 1c x 3 1/4 inches; 46.5 mm x 82.6 mm.
Tropical Storm Cristobal, the first tropical storm to menace the Southeast seaboard this hurricane season, sent outer bands of intermittent rain lashing the eastern Carolinas late Saturday as forecasters predicted it could dump several inches in some areas of drought-stricken North Carolina. At 2 a.m. EDT, the center of the storm was about 35 miles southeast of Cape Fear, N.C., and about 150 miles southwest of Cape Hatteras, N.C. The National Hurricane Center said Cristobal was moving north-northeast at about 6 mph with maximum sustained winds of about 45 mph and some higher gusts. "Basically the track is running parallel to the coast," said lead center forecaster Martin Nelson, speaking with The Associated Press by telephone from Miami. "Slow strengthening is forecast for the next day or two."
More.....
Bron: ABC
Every cloud has a silver lining
Cristobal moves parallel to North Carolina coast
Tropical Storm Cristobal moved "parallel and very close" to the North Carolina coast Sunday morning, but the storm was expected to move away from the eastern U.S. coast by Monday. Cristobal had not strengthened beyond the 45 mph (75 km/hr) top winds measured Saturday afternoon when it reached tropical storm status, according to the 5 a.m. ET Sunday advisory from the National Hurricane Center said.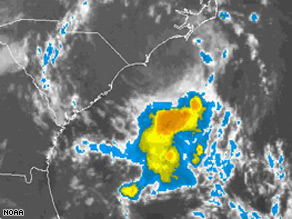 "The center of the tropical storm is expected to move parallel and very close to the coast of North Carolina today and begin to move away from the coast by Monday," the NHC said. It is expected to dump one or two inches of rain along the North Carolina coast Sunday, it said. A discussion posted online by NHC forecasters said the satellite view of Cristobal "remained unimpressive-looking" and predicted the storm would "lose tropical characteristics" over the next two or three days.
A tropical storm warning -- meaning that tropical storm conditions with maximum winds of 39 mph are expected within the next 24 hours -- remained in effect for an area from north of Little River Inlet, North Carolina, to the North Carolina-Virginia border.
As of 5 a.m. ET Sunday, Cristobal's center was located about 60 miles (95 km) southwest of Cape Lookout, North Carolina, and about 130 miles (210 km) southwest of Cape Hatteras, North Carolina. It was moving northeast at near 6 mph (9 km/hr).
The storm's maximum sustained winds were near 45 mph (75 km/hr) with higher gusts. "Some strengthening" is expected within the next day, the National Hurricane Center said.
Klik hier voor het hele artikel
©CNN
Woonplaats: Haarlem
Berichten: 4104
Lid sinds: 27 jul. 2006
Tropische storm Cristobal
Voor de zuidoostelijke kust is een tropische storm uit een depressie ontstaan. Deze zorgt voor aardig wat regenval.
Cristobal is de eerste tropische storm die voor de zuidoostelijke kust van de VS ontstaat dit orkaanseizoen. In het noorden en oosten van Carolina is aardig wat neerslag naar beneden gekomen.
De storm heeft momenteel windsnelheden van 72 km/u en windstoten die nog harder zijn. De storm beweegt parallel aan de kust en neemt in kracht toe. Er wordt verwacht dat de storm morgen zijn hoogtepunt bereikt. Er is een stormwaarschuwing uitgegeven in Carolina. Daar wordt ook nog meer neerslag verwacht.
bron: weeronline
Storm Cristobal dumps rain on Carolina coast

Tropical storm Cristobal strengthened slightly off the Carolinas on Sunday, bringing gale-force winds and dumping heavy rain on the North Carolina coast. A tropical storm warning remained in effect in the northern part of the state from Surf City to the Virginia state line including Pamlico Sound, but was discontinued further south, according to the Miami-based National Hurricane Center.

The storm brought 5 inches of rain to some parts of the North Carolina coast around Cape Fear and one inch to other parts. The weather remained changeable with periods of sunshine, local weather reports said.

The storm, which was heading northeast at 7 miles per hour (11 kph), is the third of the 2008 Atlantic hurricane season. Its winds were near 50 mph (80 kph) but were expected to strengthen. The storm was projected to run parallel to the coast on Sunday and then to veer away on Monday, the center said. Conditions were also favorable for the development of a new storm system over the northwestern Caribbean Sea. It was already producing numerous showers and thunderstorms with wind squalls hitting gale force. "This system appears likely to become a tropical depression or a tropical storm within the next couple of days as it moves west-northwestward at 15-20 mph (24-32 kph) toward the southern Gulf of Mexico," the Center said.

Meanwhile, tropical storm Bertha, on its way to becoming the longest-lived Atlantic storm on record, was losing strength around 670 miles east-northeast of Cape Race, Newfoundland.

Bron: Reuters
Every cloud has a silver lining
Nova Scotia in for a wet time as tropical storm slides by
Cristobal may bring localized flooding, offshore gales
Devon Bryan, foreground, rides a wave produced by tropical storm Cristobal while surfing Sunday at North Topsail Beach, N.C. (Don Bryan/Jacksonville Daily News/Associated Press)
Tropical storm Cristobal is expected to pass south of Nova Scotia on Tuesday, dumping as much as 100 millimetres of rain on parts of the province as its power begins to ebb, federal meteorologists said Monday evening. Cristobal's maximum wind speed, now 111 kilometres an hour, is expected to fall to "post-tropical" levels of 83 to 93 km/h on Wednesday and 65 to 74 km/h on Thursday.
Rainfall warnings were issued for most regions of mainland Nova Scotia, but no tropical storm watch was planned because the strongest winds were expected to remain offshore, the Canadian Hurricane Centre said in a statement issued at 9 p.m AT. That might not reassure seafarers, however.
Cristobal's centre was expected to move over Georges Bank, a fishing ground shared by Canada and the United States, around midday on Tuesday. Gales were forecast for offshore waters south of Nova Scotia, suggesting winds of 65 to100 km/h. Cristobal, which formed off the coast of the Carolinas, was still south of Cape Cod, Mass., on Monday evening. CBC meteorologist Peter Coade said it may bring localized flooding as it moves north. "The good thing about it is we're not anticipating hurricane-force winds. It is mostly going to be a rain event for most of Nova Scotia," he said.
Bron: CBCNews
Every cloud has a silver lining