Prachtige foto's van aurora borealis boven Noorwegen
On Dec. 18th in Kvaløya, Norway, the sky exploded in a spray of color. Aurora tour guide Marianne Bergli caught the outburst: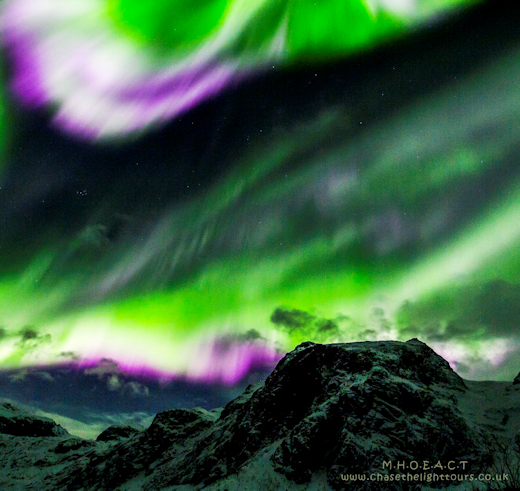 "Everyone was completely speechless," says Bergli. "Then they screamed: Look , WOW, Amazing! It was pink and green and white, is it like that every day?"
Indeed, these colors are somewhat unusual. Most auroras are green--a verdant glow caused by energetic particles from space hitting oxygen atoms 100 km to 300 km above Earth's surface. Seldom-seen pink appears when the energetic particles descend lower than usual, striking nitrogen molecules at the 100 km level and below. The ambient solar wind stream seems to be more penetrating than usual, creating an extra-colorful display for Arctic sky watchers.
Taken by Marianne Bergli on December 17, 2017 @ Kvaløya , Tromsø
Taken by Marianne Bergli on December 17, 2017 @ Kvaløya
Bron:
http://www.spaceweather.com/
Explosion of Light#photography by Nicholas Roemmelt#Norway #hiking #adventure #northernlights #nature #amazing #aurora #sky #landscape #photo #auroraborealis #explore #visitnorway #wanderlust #travel ????????https://t.co/tbP8harNQa pic.twitter.com/wcD2JFtYPa

— iTweetThere4iAM (@B_Ubiquitous) 19 december 2017
A friend of mine knows how much I love pictures from #Norway & just passed this on for me to seeI am in #LOVE#breathtaking #speechless #northernlights #magical #magic #serenity #tranquility #auroraborealis #emoiryah #musician #singersongwriter #inspiration pic.twitter.com/GcX8ZH89ox

— Emoiryah (@Emoiryah) 18 december 2017
Purple and Green Sky#photography by @KolbeinSvensson#Norway #northernlights #amazing #auroraborealis #adventure #visitnorway #explore #space #weather #wanderlust #beautiful #aurora #photo #bucketlist #travel ????????https://t.co/pk4XYzZLIu pic.twitter.com/BPdcQk3ChH

— iTweetThere4iAM (@B_Ubiquitous) 18 december 2017
We zitten in een kleine geomagnetische storm
Snelheid op dit moment is 507,9 km/s en een dichtheid van 5,7 protonen/ cm3
De zonnestorm is afkomstig van dit coronale gat: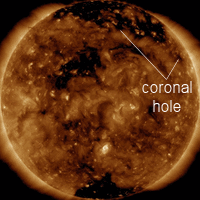 ©SDO/AIA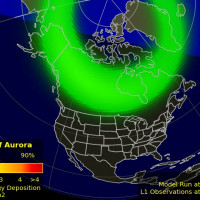 ©NOAA/Ovation
Today, Earth is inside a stream of solar wind blowing faster than 500 km/s (1.1 million mph). As a result, auroras are ringing the Arctic Circle. Rayann Elzein photographed the display at 4 o'clock this morning Finland time: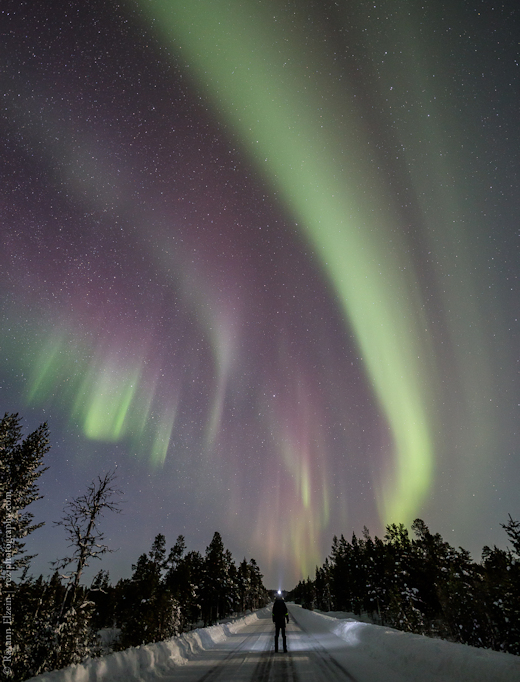 After a week of bad weather, I was very excited to see clear skies in the Finnish Lapland, coinciding with the arrival of the solar wind," says Elzein. "For a while, the auroras were strong and fast."
The solar wind is flowing from a northern hole in the sun's atmosphere in a fan-shaped spray wide enough to influence Earth for another day, at least. Arctic sky watchers should remain alert for auroras on Jan. 9-10 as geomagnetic unrest continues.
Taken by B.Art Braafhart on January 9, 2018 @ Salla-Finnish Lapland
Taken by B.Art Braafhart on January 9, 2018 @ Salla-Finnish Lapland
Taken by Rayann Elzein on January 9, 2018 @ Inari, Finnish Lapland
Taken by Rayann Elzein on January 9, 2018 @ Inari, Finnish Lapland
Taken by Rayann Elzein on January 9, 2018 @ Inari, Finnish Lapland
Taken by Rayann Elzein on January 9, 2018 @ Inari, Finnish Lapland
Taken by Stephen Voss on January 9, 2018 @ Perriam Cove, Lake Dunstan, New Zealand
Bron:
http://www.spaceweather.com/
G1 klasse zonnestorm op komst.
Morgen wordt de impact van een G1 klasse zonnestorm verwacht, kp- index max 4. Het is afkomstig uit het coronale gat dat je op onderstaande afbeelding ziet.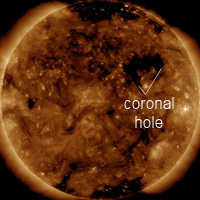 Credit: SDO/AIA
Het gaat om een CIR (co-rotating interaction region), dat wil zeggen dat je periodes hebt met meer activiteit en periodes met minder activiteit.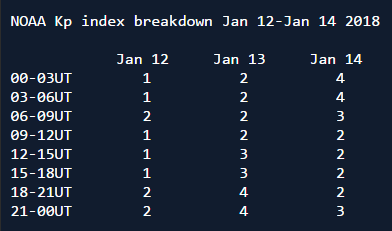 Bron:
http://services.swpc.noaa.gov/
We houden de aurora's in de gaten, dus to be continued.......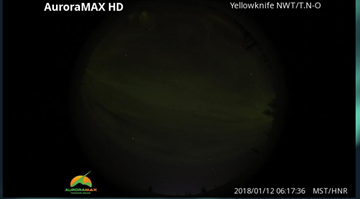 Bron:
http://www.spaceweather.com/
Prachtige aurora's op video vastgelegd
AURORAS IN MOTION:
Last night, deep inside the Arctic Circle, photographer Oliver Wright stood outside in the cold waiting for the solar wind to arrive. It didn't. Nevertheless, the sky erupted in a swirling cauldron of color--"possibly the best I've ever seen," says Wright, who has been leading aurora tours for years in Abisko, Sweden. Turn up the volume and listen to the cries of delight in Wright's 3 minute video
"My fingers got so cold taking this video," he says, "but it was worth it."
Watch the video again and pay special attention to the moments after 1:30. Those dynamic swirls of pink are caused by energetic particles reaching unusually deep into Earth's atmosphere, interacting with nitrogen molecules to produce a pink glow so intense that it sometimes appeared white.
This outburst was caused by a crack forming in Earth's magnetic field. Ambient solar wind (not the high-speed stream Wright expected) poured in to fuel the display. Magnetic cracks occur more frequently than usual during weeks around equinoxes, which make this a great time of year for auroras.
Bron:
http://www.spaceweather.com/
Prachtige aurora's na G2 klasse zonnestorm
On March 18th, a crack opened in Earth's magnetic field. Solar wind poured in, fueling a moderately strong (G2-class) geomagnetic storm. Ruslan Merzlyakov sends this picture from Mårup (Hjørring), Denmark: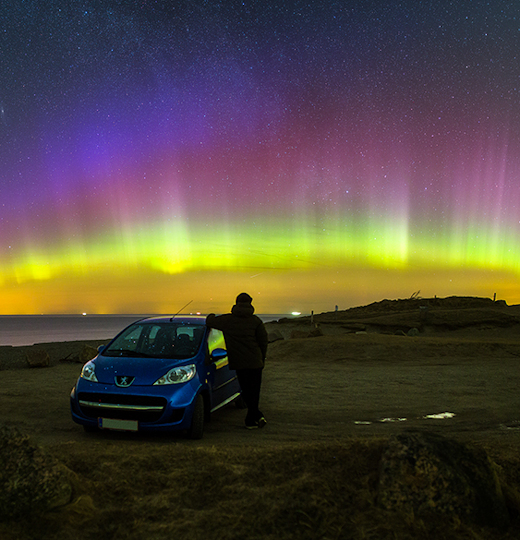 Credit:Ruslan Merzlyakov
"The unexpected storm of Northern Lights was visible with the naked eye," says Merzlyakov. "For the first time in months, Lady Aurora visited Denmark!"
NOAA forecasters had said there was a slight chance of minor G1-class storms on March 18th. The actual storm was much more intense, spreading auroras to lower latitudes than expected. In Europe the display spilled all the way down to Germany. Chalk it up to the vernal equinox and the Russell-McPherron effect.
Bron:
http://www.spaceweather.com/
Northern Lights over Lofoten#photography by Veronica Verlan#Norway #spaceweather #explore #nature #photo #amazing #aurora #adventure #auroraborealis #sky #earth #art #beautiful #northernlights #fotos #optoutside #skylovers #wanderlust #travel ????????https://t.co/KXyC7KfN95 pic.twitter.com/9I9Z2UpN2r

— iTweetThere4iAM (@B_Ubiquitous) 20 maart 2018
#NorthernLights briefly dancing over Lake Huron last night around 8:30PM EDT seen near #BrucePeninsula Ontario. The show was brief but was great to see her dance again after months of cloud cover. // Captured Mar 18, 2018 #aurora #auroraborealis #lakehuron #greatlakes pic.twitter.com/D7Ofht7125

— Scott Rock (@scottrockphoto) 19 maart 2018
Incredible show of northern lights taken in Dunstaffnage by @john_a_photo - thank you #AuroraBorealis #aurora pic.twitter.com/iDJ20Uvaiz

— Being Scottish (@BeingScots) 19 maart 2018
Found this little snow cave on the weekend, nice spot to enjoy the show! #aurora #auroraborealis #clearwaterlake #manitoba #canada @AuroraMAX @AuroraNotify @AuroraMAX_asc @ExploreCanada @Earth_Pics @EarthPix @BBCEarth @NatGeoExplorers @NatGeoYourShot @SonyAlpha pic.twitter.com/ufjnI9tNjk

— Andre Brandt (@andrebrandtfoto) 19 maart 2018
Imagination is the only weapon in the war against reality???? #northernlights #auroraborealis #beach #nature #bc #Canada #astrophotography #cinematography https://t.co/anH5y1OHCC pic.twitter.com/SVxPnauuvP

— Andy Witteman (@CNLastro) 19 maart 2018
Scotland ~ A Magical Night Under The Aurora - Dunollie Castle outside Oban ~ Thanks to Nick Edgington @EdgingtonNick #Auroraborealis #StormHour pic.twitter.com/cK9S2HfpxJ

— #StormHour (@StormHour) 19 maart 2018
Last night's Aurora in NW Scotland, I had the pleasure of sleeping under it. @Hilleberg #auroraborealis pic.twitter.com/Hs2L7XJIna

— Dave M (@DAVIDMILES6) 19 maart 2018
Sleepless night again, but this was a show that you don't want to miss. Auroras 18.3.2018. #northernlights #Auroraborealis pic.twitter.com/SXOTjtTaW3

— Jari Ylioja (@Jariy) 19 maart 2018
Noorderlicht met het oog waar te nemen in Holwerd . @telegraaf @WNLVandaag @HVweerNL @Weerplaza @OmropFryslan @Waddenpost @DZK_deWadden @HolwerdaanZee #noorderlicht #auroraborealis @_SpaceWeather_ pic.twitter.com/7osBBJvT3R

— Paul Lezwijn (@paullezwijn) 18 maart 2018
A Strong Thermal Emission Velocity Enhancement ( aka Steve ???? ) over Skye with the beam leading straight into the star sign of Taurus. #aurora #Taurus #NightPhotography #Nightsky #northernlights #auroraborealis #Skye #IsleofSkye #seascape #Scotland pic.twitter.com/3iBVrhPSIy

— M A Photography (@SCOT_LANDandSEA) 20 maart 2018
another fantastic Aurora show last night!#auroraborealis #Jerisjärvi #Lapland #Finland #VisitLapland #VisitFinlandhttps://t.co/LI1u4a2xJi
This and many more photographs on my website: https://t.co/SmWCmzD7Fo pic.twitter.com/uh9lAvmgyy

— Thomas Achermann (@TAchermannPhoto) 20 maart 2018
Bajo el manto de las luces del norte es donde anhelo estar, nada más, entonces y sólo entonces, podré morir en paz. La libertad y calma perpetua plasmadas en una foto. #Nature #NorthLight #auroraborealis #Aurora #AuroraBoreal #Naturaleza pic.twitter.com/hIlN3U6X64

— Santiago Zambrano V. (@Santiago_ZV) 20 maart 2018
Sprookjesachtige beelden van aurora borealis door G2 klasse zonnestorm.
Overhead! Valdez, AK. 9/11/18#Aurora #NorthernLights pic.twitter.com/nQ0rcA7kaP

— Dan Heckathorn (@snowtownak) 12 september 2018
WOW! Northern Lights seen early this morning near Bemidji, Minnesota. Photo courtesy of Cheryl Windels. #Aurora #NorthernLights pic.twitter.com/M6ONDTFjL9

— Mark Tarello (@mark_tarello) 11 september 2018
The northern lights went south last night near Alix Alberta! #aurora #NorthernLights #teamtanner @treetanner @TamithaSkov @weathernetwork @AuroraMAX @mikesobel @ScottWx_TWN @mark_tarello @NorthLightAlert pic.twitter.com/LrPgE2mPvc

— Dar Tanner (@dartanner) 11 september 2018
Yesterday we had a truly amazing Northern light here in northern Sweden. In a mirrored 180° panorama I found both something familiar but also something out of this world, a face of an alien and a Storm trooper, coincidence? #northernlights #aurora #norrsken #Nikon pic.twitter.com/xrDxmjdDdl

— Göran Strand (@Astrofotografen) 11 september 2018
#NorthernLights and airglow marbled by approaching fog captured last night where the Sauble River meets Lake Huron on the shores of Ontario, Canada // Sept 11, 2018 | 1:01 AM EST @StormHour #aurora #aurorachasing #auroraborealis pic.twitter.com/HDePG9g4GJ

— Scott Rock (@scottrockphoto) 11 september 2018
Northern Lights.#aurora #AuroraBorealis #500pxrtg #northernlights @TomHall pic.twitter.com/Q5L8lczBa3

— Buitengebieden (@buitengebieden) 11 september 2018
WOW! Northern Lights seen last night near Walker, Minnesota. Photo credit: Josh Sporre. https://t.co/q2kPhSxdCJ #Aurora #NorthernLights pic.twitter.com/Kks8JyVQJP

— Mark Tarello (@mark_tarello) 11 september 2018
Sept 10th 21:48 - Happening now, Aurora in Lacombe Alberta. @TamithaSkov @TweetAurora #NorthernLights pic.twitter.com/ZAhhScQwuv

— John Barnes (@Johnny_B500) 11 september 2018
Monday night massive Northern Lights show by the river Ounasjoki, in Kittilä, Finland.#NorthernLights #Aurora @TweetAurora @StormHour @ThePhotoHour @EarthandClouds #500pxrtg #potw #Finland #Lapland pic.twitter.com/wa7e8gKPNs

— Juice Sunell (@Add_Juice) 11 september 2018
Woah! Check out the aurora cam in #Antarctica #aurora #northernlights pic.twitter.com/Lq8qeH0w6L

— 丅ᖇᗴᗴ 丅ᗩᑎᑎᗴᖇ (@treetanner) 11 september 2018
Autumn in Alaska!???????? #northernlights #leaves #woods #fall #Autumn #fairbanks #auroraborealis #nikon #nature pic.twitter.com/s9OeKVsMXJ

— Andy Witteman (@CNLastro) 9 september 2018
Arctic wilderness skies ????????

???? Canon 5D Mark IV, 14 mm, f/2.8, 25 s, ISO 10000 (stack of 16)#enontekiö #visitlapland #visitfinland #laplandfinland #canonsyksy #milkyway #auroraborealis #northernlights pic.twitter.com/m4QnZKl0hX

— Timo Oksanen (@timoksanen) 12 september 2018
#Aurora season has started around the #Arctic circle, so this #fernwednesday we wish we were there to see the #NorthernLights. Tell us where you want to be today! #fernweh pic.twitter.com/UKJM5pz6mu

— Team Fram (@team_fram) 12 september 2018
Last night's geomagnetic storm over #Senja #norway for those who missed the live stream from the observatory #aurora #solarstorm #auroraborealis @TamithaSkov @chunder10 @AngryTheInch @SpaceToday1 @StormHour @NorthLightAlert @dartanner @treetanner @Meteorologene @INSVideos pic.twitter.com/1AsxcjNBjv

— Adrien Mauduit (@ADphotography24) 11 september 2018
3-4 hours ago, the sky exploded again over #Senja island in #Norway What a show to start the season properly! #aurora #auroraborealis #astrophotography @StormHour @AuroraMAX_asc @AuroralActivity @NorthLightAlert @B_Ubiquitous @SpaceToday1 @INSVideos @TamithaSkov @dartanner pic.twitter.com/MguyXV8ugn

— Adrien Mauduit (@ADphotography24) 11 september 2018